Art at Amtrak
Art at Amtrak invites artists from the U.S. and internationally to create original art for the public spaces of New York Penn Station, Moynihan Train Hall, and Washington Union Station. In conjunction with the permanent public art program at Moynihan Train Hall, these temporary installations aim to energize trips through the Western Hemisphere's busiest train stations in the most creative cities in the world.
A digital art program launched at Moynihan Train Hall in July 2023 and expanded to Washington Union Station in Fall 2023. The program will further expand to William H. Gray III 30th Street Station.
Art at Amtrak is curated and produced by Debra Simon Art Consulting.

Washington Union Station Fall 2023 Artwork
TIM DOUD
A Great Public Walk, 2023
Digital print on vinyl adhesive film
Washington Union Station, Passenger Waiting Area and Passageway

The artwork commissioned for Union Station by the Art at Amtrak program, A Great Public Walk, considers the local, national and international spectrum of those who pass through the station, as well as the historical significance of Washington DC.
DC based artist Tim Doud took into consideration French engineer Pierre Charles L'Enfant's plan for our nation's capital. The centerpiece of L'Enfant's plan was a great "public walk" in the form of wide avenues, public squares and inspiring buildings. Doud took that template and then inserted cropped images of clothing patterns, logos and textiles that were worn by people he observed moving through Union Station and throughout the city.
The resulting mural is a tapestry created through the lens of style preferences that directly reflects the identities, demographics and personalities of those who frequent the station, all arranged within L'Enfant's plan for Washington DC.
About the Artist
Born in 1961, Tim Doud graduated from The School of the Art Institute of Chicago with an MFA in Painting and Drawing. He is the Co-Founder of STABLE in Washington DC, the 'sindikit project in Baltimore and Co-editor of Out of Place: Artists, Pedagogy and Purpose. The craft of making interests him, as well as the final legibility and look of the made object. Tim Doud's paintings and drawings address two seemingly distinct bodies of work, one figurative and one abstract. These bodies of works serve as a backdrop to broader discussions around constructed identities, branding and commodity culture. Historically, he is a portraitist and is interested in how portraiture functions as practice and cultural signifiers. When he begins a new series of works — figurative, or abstract — he establishes perimeters — rules and obstacles governing the craft and development of the work.
Follow the artist on Instagram @tim.doud and visit his website at timdoud.net.

New York Penn Station Fall 2023 Artwork
DAVID RIOS FERREIRA
Get Carried Away, You Have the Right, 2023
Digital print on vinyl adhesive on film
Penn Station Rotunda

"The Amtrak Rotunda at Penn Station serves as a symbolic gateway, connecting people, experiences, and histories. Recognizing the importance of understanding where we come from to navigate where we are going, I explore the impact of history on our lives through my art. Drawing inspiration from Caribbean culture, as well as Indigenous and African spiritual practices, I have created a site-specific work for Amtrak that transforms the rotunda into a cosmic terminal, influenced by Indigenous and Afro-Futurism, as well as the concept of Mestizaje.
At the rotunda's center, four pillars adorned with figures representing temporal beings blur the line between the figurative and abstract. These figures evoke the presence of angels, ancestors, or gods. As visitors ascend the escalator to exit the rotunda, they are greeted by cosmic serpents along the soffits. These serpents, recognized as symbols of time and gateways between worlds in many cultures, enhance the immersive experience. Looking up from the center of the pillars, visitors can glimpse a celestial gateway between the screens, emphasizing the transcendent nature of the space.
To create this work, I combined images from different periods and sources, ranging from cartoons and animation to 18th-century etchings and pre-colonial glyphs, including imagery from Amtrak's archive. Throughout the installation, one may spot maps, train cars, and design elements taken from old Amtrak Cafe menus, ticket stubs, route brochures, and other sources. By merging these elements, I have constructed an imaginary universe within the rotunda—a futuristic space symbolizing the convergence of past and present. The inclusion of temporal beings, cosmic serpents, and a celestial gateway in the artwork reflects Amtrak's mission to transport individuals to their desired destinations. The title of the piece, "Get Carried Away, You Have the Right," combines two campaign slogans by Amtrak, highlighting the diverse range of people, stories, and narratives intersecting with the concept of ridership.
Through this transformative installation, I merge the past with the present, creating a space that invites viewers to contemplate their place within history and imagine new possibilities for the future. The artwork serves as a catalyst for us to reflect on the transformative power of travel and the potential for personal growth and exploration that lies ahead."


About the Artist
David Rios Ferreira's abstract drawings, sculptures, and installations meditate on the past by studying historical etchings depicting colonial narratives and political cartoons illustrating American imperialism. Merged with the reductive nature of children's coloring books and pop culture, Ferreira creates new bodies—temporal beings and hybrid landscapes as transmitters of imagined histories. His dense imagery signals how the body bears, interprets and transforms historical memory.
Ferreira has exhibited in galleries and museums in the US and abroad. He's had solo exhibitions at Wave Hill (Bronx, NY), Morgan Lehman Gallery (New York, NY), the Brattleboro Museum & Art Center (Brattleboro, VT), and the Utah Museum of Fine Arts (Salt Lake City, UT). Ferreira has won commissions with BRIC (Brooklyn, NY) and Meta Open Arts and has upcoming public works in New York, debuting in 2023.
He has held residencies at the Lower East Side Printshop (New York, NY), Elizabeth Foundation for the Arts (New York, NY), and The Center for Book Arts (New York, NY). Rios Ferreira has participated in professional development programs such as Emerge 11 at Aljira (Newark, NJ) and the Bronx Museum's Artist in the Marketplace (AIM) program (Bronx, NY). Awards include a New Jersey State Council on the Arts Fellowship and a National Association of Latino Arts & Culture Fund for the Arts grant. He has also been nominated for the United States Artists award and the Joan Mitchell Fellowship. David Rios Ferreira received a BFA from The Cooper Union and currently lives and works in Jersey City and Newark, NJ.
Follow the artist on Instagram @davidriosart and visit his website at davidriosart.com to hear from David discuss his work on Soundcloud.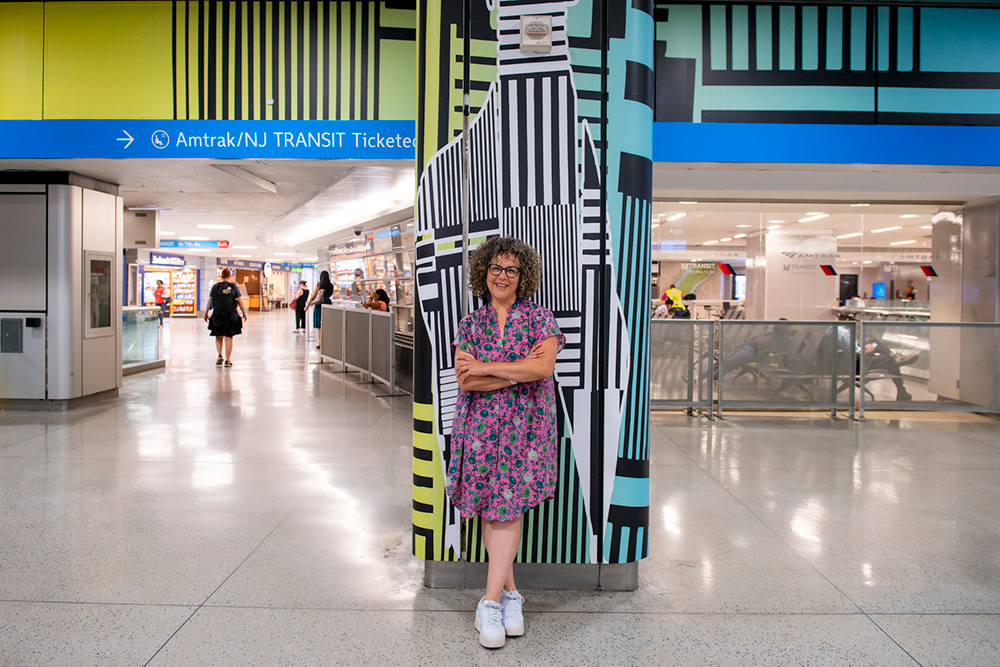 SHOSHANNA WEINBERGER
Traveling Through Horizons, 2023
Digital print on vinyl adhesive film
Penn Station Concourse

"Traveling Through Horizons depicts how civilization measures the time between sunrise and sunset. The colors of sunrise to sunset wrap and repeat around the entire frieze of the concourse as well as on the columns.
Along with sky color variations, horizontal and vertical stripes correlate to specific numbers of measured time: 24 hours, 7 days; and 12 months. Black and white stripe patterns create a visual language and coding that signify societal lines of division (i.e., race, economic, class and political). They also act as universal metaphors for borders, flags, fences, animals, barcodes and my own hybridity as an Afro-Caribbean-American.
On the columns are five figures: all muses that reoccur in my studio practice and symbolize marginalized bodies, and that of my own body, covered in stripes. These anonymous figures represent our collective consciousness within measured time – moving in and out of public spaces within societies everywhere."


About the Artist
Born in Kingston, Jamaica, Shoshanna Weinberger received her MFA from Yale School of Art in 2003 and BFA from The School of the Art Institute of Chicago in 1995.
Living and working in Newark, NJ, since 2006, Weinberger's work references her Caribbean-American background, which explores the complexity of heritage and the psychology of peripheral identity. She considers herself a visual anthropologist, cataloging and surveying these experiences that ultimately question notions of assumed beauty norms and identity through ongoing serial works that result in abstract paintings, drawings, collage, mixed media, and sculptural installations.
Her work has been exhibited nationally and internationally in numerous invitational groups and solo exhibitions. Weinberger is a five-time participant of the Jamaica Biennial from 2006 to 2017 held in Kingston, Jamaica; and included in the 2013 Martinique Biennale.
Exhibiting for over two decades, highlights include: National Gallery of Jamaica; The Bronx Museum; Wave Hill; and NSU Art Museum Fort Lauderdale. Recipient of a 2014 Joan Mitchell Foundation Painters and Sculptors Grant; 2015 Joan Mitchell Center Artist Residency; 2016 Fellowship from the NJ State Council of the Arts; 2018 Project for Empty Space Artist Residency; 2019 Dawn Scott Memorial Award, National Gallery of Jamaica; 2020 Newark Artist Accelerator Grant made possible by the Andy Warhol Foundation; 2021 City of Newark Creative Catalyst Fund Grant; 2021 Newark Arts Four Corners Public Art Mural Commission. Recently awarded: 2022 Fellowship from the NJ State Council of the Arts; 2022 McColl Center Artist Residency; 2022 Public Art Commission at the New Terminal A, Newark Liberty Airport; 2022 Nancy Graves Foundation for Visual Artists Grant; 2022 Newark Arts Renewal Grant; received a 2022-2023 In Focus Fellowship, Jamaica Art Society; 2023 City of Newark Creative Catalyst Fund Grant; and 2023 Guttenberg Arts Artist Residency. Weinberger is also an Adjunct Professor, Department of Art, Culture and Media at Rutgers University - Newark Campus. Permanent collections include New Jersey State Museum; Newark Museum of Art; Girls Club Collection, Fort Lauderdale; The Margulies Collection, Miami; Davidson College, NC; AC Kingston Collection, Jamaica; and The Sheldon Museum of Art, Lincoln, NE.
Follow the artist on Instagram @shoshannaweinberger and visit her website at shoshanna.info to hear about Shoshanna and her work via Soundcloud.


About the Curator
An award-winning public arts curator and producer, Debra Simon has more than 30 years of experience in visual and performing arts programming for civic organizations, the real estate industry and other companies. While working at the Downtown Alliance, she created the Music at Castle Clinton concert series, Dine Around Downtown and co-founded the River-to-River Festival in 2002. As the Director of Times Square Arts, Simon oversaw Midnight Moment, the world's largest digital art exhibition on electronic billboards and the annual Valentine Heart design competition, among other projects for the over 300,000 daily visitors to Times Square. As Artistic Director at Brookfield Properties, she led a national arts program that planned and executed multi-disciplinary programming, presenting over 500 free events annually in New York, Denver, Los Angeles and Houston. Collaborations with artists, architects, landscape designers, local arts organizations and presenting partners have contributed to her expertise in creating and reimagining public spaces. Current clients include Amtrak, Taconic Partners, Hudson Yard Hell's Kitchen Alliance, Fifth Avenue Association and Third Street Music School Settlement. For more information, visit Debra Simon Art Consulting. Simon is collaborating with producer Common Ground Arts to realize Art at Amtrak. Visit dsimonartconsulting.com for more information.

SIGN IN OR CREATE AN ACCOUNT
Passwords are case sensitive, should be at least 10 characters long and should include 1 uppercase and 1 lowercase alpha character, 1 number and 1 special character. ! " # $ % & ' ( ) * + , - . / : ; < = > ? @ [ \ ] ^ _ ` < | > ~

Enter the email address or member number associated with your account. We will send password reset instructions.

An email with password reset instructions is on the way.

That answer wasn't correct either. We've sent you an email with instructions to reset your password instead.

Continue as Signed In Sign Out