Art at Amtrak - Spring 2023 Artworks
KAREN MARGOLIS
Continuum, 2023
Handmade linen, abaca laminated over wire, maps, thread, cotton-covered wire, acrylic, chicken wire.
Dimension of each panel: approx. 6'3" H x 6'8" W

Moynihan Train Hall Metropolitan Lounge

Karen Margolis is a multi-disciplinary, process-based artist based in Brooklyn, New York. Experimenting with structure, form and materiality, her works are synthetic ecosystems assembled from deconstructed sculptures and found materials. Each work blurs the distinction between interior and exterior worlds and alludes to states of transition.
In Continuum, a new work commissioned by Art at Amtrak for the Amtrak Metropolitan Lounge, Margolis finds inspiration in the natural world in order to explore the constant cycle of birth and dissolution. The materials in this work originate primarily from previous artworks that are subjected to the labor-intensive processes of burning and dismantling. Hybrid forms, born through this destruction, are frozen in transition between substance and immateriality. The unraveled sculptures simultaneously grow as they disintegrate into fragments of burnt maps entangled within strands of wire. Retaining residual marks, rips and holes from their previous incarnations, Margolis weaves tapestries from these fragments into Mandalas that speak to both the vulnerability and potency of resilience within this community of broken pieces that are united and made whole.
Pictured: Karen Margolis with Debra Simon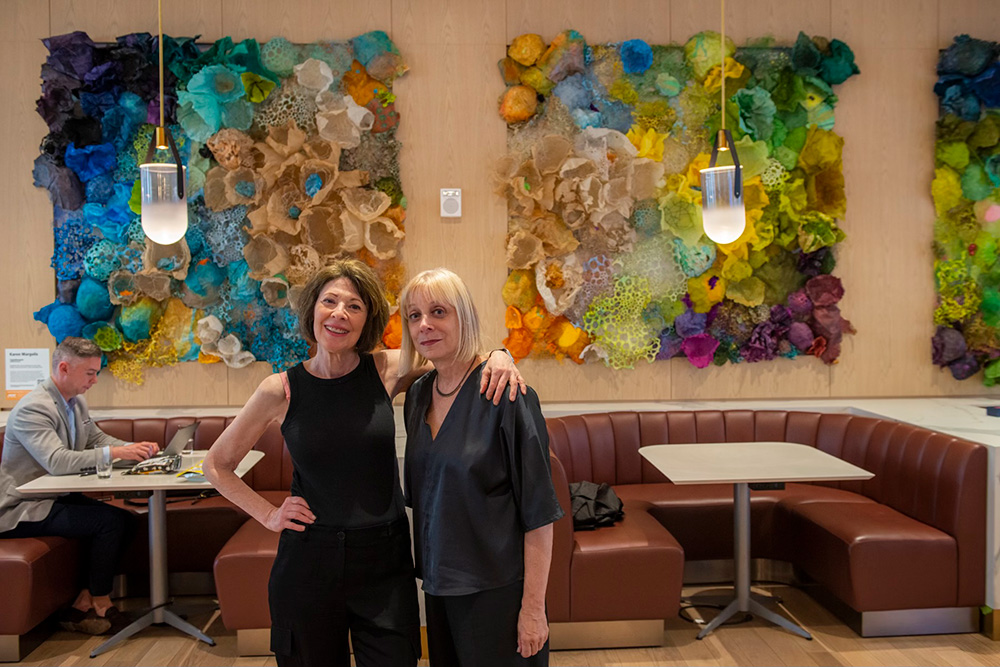 DERRICK ADAMS
The City is My Refuge, 2023
Digital print on vinyl adhesive film
Penn Station Concourse & Rotunda

Born in Baltimore in 1970, Derrick Adams is a Brooklyn-based artist whose work spans painting, collage, sculpture, performance, video and sound. Adams obtained his BFA from the Pratt Institute and MFA from Columbia University. Amtrak has commissioned Adams to create an expansive new work called The City Is My Refuge, marking the first time that a single artist has taken over the entire concourse level of the station to create a truly immersive experience.
Adams, a frequent rider of Amtrak between New York City and Baltimore, has created an installation that highlights the wonders of the urban environment available to city dwellers and visitors if one seeks and discovers them. The City Is My Refuge reframes the city as a place where the natural world shares space with humanity, and where one can find peace and joy.
Adams says, "I'm excited by the opportunity Art at Amtrak offers to share my work with the enormous public that passes through New York Penn Station each day. I hope The City Is My Refuge gives everyone what the city gives to me: a sense of wonder, purpose and connection."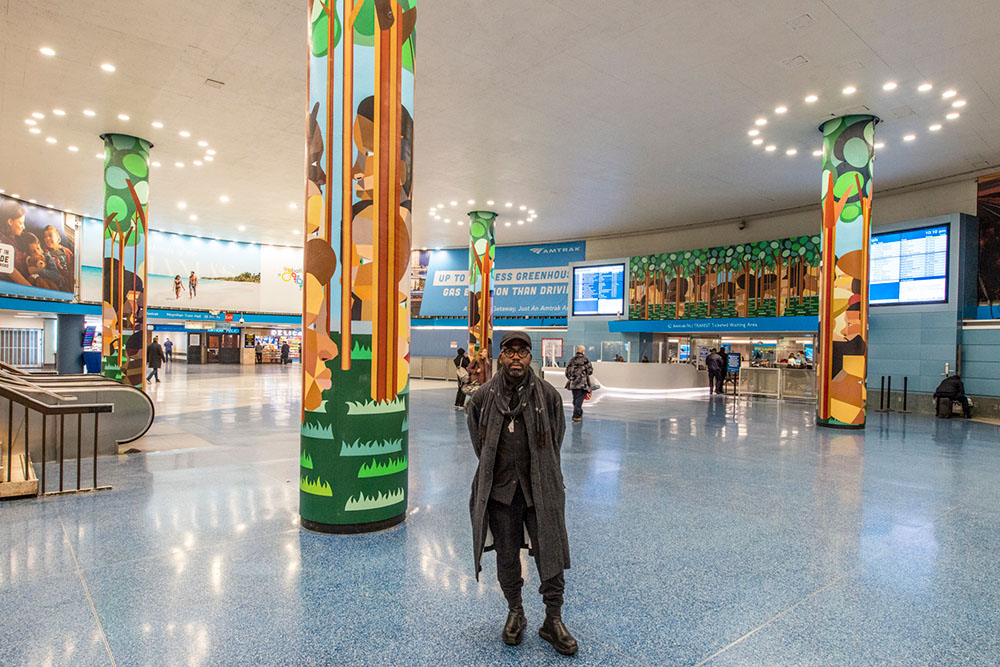 About the Artists
Karen Margolis is a multi-discipline, process-based artist experimenting with structure, form and materiality that blurs the distinction between interior and exterior worlds and alludes to states of transition. She has created a public art installation for the 2020 Art on Paper Fair and completed a public art commission of mosaic panels for the MTA Arts in Transit Brooklyn 86 Street N line subway station in 2018. Recent solo gallery exhibitions include 490 Atlantic Gallery, Brooklyn, Foley Gallery, New York, K. Imperial Fine Arts, San Francisco and Garish & Hahn, Los Angeles. Her work was included in the "Cut up/Cut out" exhibition, traveling to regional museums throughout the United States from 2016 through 2021. Margolis' work was featured in the Paper Biennial at the Rijswijk Museum in the Netherlands and additionally in solo exhibitions at Bridgewater University, MA, Salon Zurcher, Paris and in collaboration with M Missoni, New York City through Garish & Hahn. Prior exhibitions include, Rockland Center for the Arts, The Hunterdon Art Museum, Weatherspoon Art Museum, The Fine Arts Center of the University of Massachusetts in Amherst, The Aldrich Museum of Contemporary Art, Parrish Art Museum and The Delaware Center for Contemporary Art. Margolis received a workspace residency at Dieu Donne Papermill and a Pollock-Krasner Foundation Grant. Residing in New York City, she received a BS in Psychology and certificate in Microscopy. Her work is represented internationally in public collections.
Follow the artist on Instagram @karenmargolis and visit her website at karenmargolisart.com.
Derrick Adams is a Baltimore-born, Brooklyn, New York-based artist whose critically admired work spans painting, collage, sculpture, performance, video and sound installations. His multidisciplinary practice engages the ways in which individuals' ideals, aspirations, and personae become attached to specific objects, colors, textures, symbols and ideologies. His work probes the influence of popular culture on the formation of self-image, and the relationship between man and monument as they coexist and embody one another. Adams is also deeply immersed in questions of how African American experiences intersect with art history, American iconography and consumerism. Most notably in his Floater series, he portrays Black Americans at leisure, positing that respite itself is a political act when embraced by black communities. The radicality of this position has materialized in Adams' work across his Deconstruction Worker, Figure in the Urban Landscape and Beauty World series.
In formal terms, Adams' practice is rooted in Deconstructivist philosophies related to the fragmentation and manipulation of structure and surface, and the marriage of complex and improbable forms. His tendency to layer, hybridize, and collage not only images and materials, but also different types of sensory experiences, link the artist to an estimable lineage of pioneers ranging from Hannah Höch and Henri Matisse, to William H. Johnson and Romare Bearden. In Adams' art, the process can also be understood as an analog: "Everything that we are is based on a specific construction," he once remarked.
Adams received his MFA from Columbia University and BFA from Pratt Institute. He is an alumnus of the Skowhegan School of Painting and Sculpture and Marie Walsh Sharpe Foundation's Studio Program. Visit derrickadams.com for more information about the artist.
About the Curator
An award-winning public arts curator and producer, Debra Simon has more than 30 years of experience in visual and performing arts programming for civic organizations, the real estate industry, and other companies. While working at the Downtown Alliance, she created the Music at Castle Clinton concert series, Dine Around Downtown, and co-founded the River-to-River Festival in 2002. As the Director of Times Square Arts, Simon oversaw Midnight Moment, the world's largest digital art exhibition on electronic billboards, and the annual Valentine Heart design competition, among other projects for the over 300,000 daily visitors to Times Square. As Artistic Director at Brookfield Properties, she led a national arts program that planned and executed multi-disciplinary programming, presenting over 500 free events annually in New York, Denver, Los Angeles, and Houston. Collaborations with artists, architects, landscape designers, local arts organizations, and presenting partners have contributed to her expertise in creating and reimagining public spaces. Current clients include Amtrak, Taconic Partners, Hudson Yard Hell's Kitchen Alliance, Fifth Avenue Association, and Third Street Music School Settlement. For more information, visit Debra Simon Art Consulting. Simon is collaborating with producer Common Ground Arts to realize Art at Amtrak. Visit dsimonartconsulting.com for more information.

SIGN IN OR CREATE AN ACCOUNT
Passwords are case sensitive, should be at least 10 characters long and should include 1 uppercase and 1 lowercase alpha character, 1 number and 1 special character. ! " # $ % & ' ( ) * + , - . / : ; < = > ? @ [ \ ] ^ _ ` < | > ~

Enter the email address or member number associated with your account. We will send password reset instructions.

An email with password reset instructions is on the way.

That answer wasn't correct either. We've sent you an email with instructions to reset your password instead.

Continue as Signed In Sign Out