Art at Amtrak - Fall 2022 Artworks
GHOST OF A DREAM
Aligned by the Sun (Connections), 2020 - 2022
Video stills recorded by artist participants printed on biodegradable vinyl adhesive film
Penn Station Concourse

Ghost of a Dream is the collaborative project of Lauren Was and Adam Eckstrom based in Wassaic, New York. Over two years ago, the artists started working on an "Aligned by the Sun" project. They collected videos of sunsets from artists living in 223 nations – 193 nations in the United Nations currently, as well as many other places such as Tibet, Hong Kong, Crimea, and several Indigenous and first nations from around the world. For Penn Station, Ghost captured stills from each video and connected them along the horizon lines. The 223 stills encircle the departure concourse and place the viewer at the metaphorical center of the planet.
"Across history, humans have drawn and redrawn lines on this earth. As borders have shifted, one truth has remained constant: we inhabit a single planet that is sustained by the light and warmth of this one sun."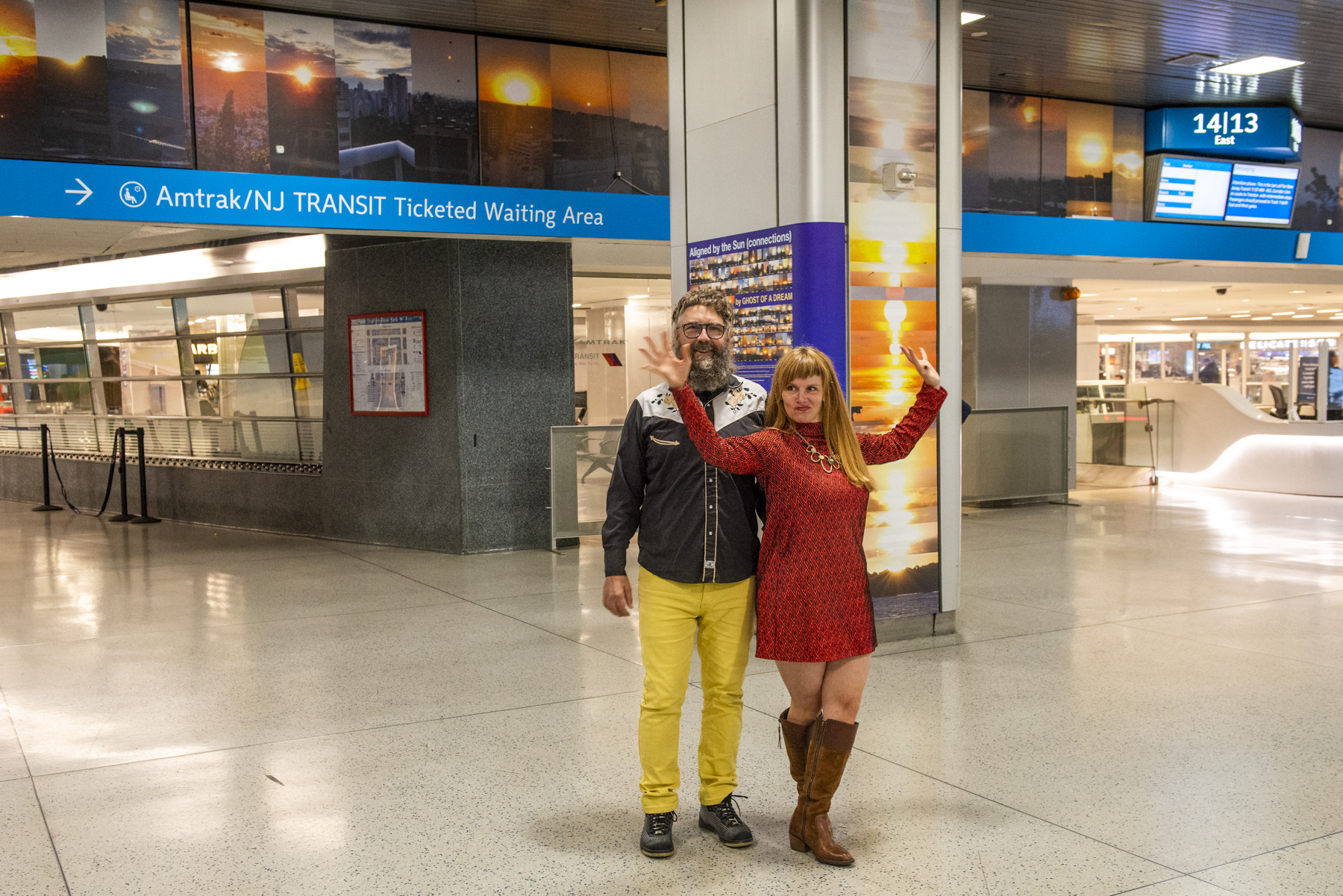 DENNIS REDMOON DARKEEM
Patchwork Travelers, 2022
Site-specific installation of digital art works printed on vinyl adhesive
Penn Station Rotunda & Ticketed Waiting Area


Dennis RedMoon Darkeem is a multidisciplinary artist and educator who lives and works in the Bronx, NY. A member of the Wind Clan within the Yamassee Yat'siminoli tribe, his art incorporates African and Indigenous traditional motifs and visual stories about events in his life. For this installation, Darkeem draws colors, patterns, and icons such as totems, earth mounds, and the medicine wheel from his dual heritage into an expansive, visually rich collection of artworks. His creative process is based on the Indigenous tradition of combining smaller, different pieces into a larger canvas to create a wholly new and larger work.
The artist has created a soundscape and recorded commentary about the meanings and cultural connections found in Patchwork Travelers.
Patchwork Travelers Soundscape
Patchwork Travelers Commentary
"Whichever direction we travel; we are all handling the race of life at our own pace. Along the way, we discover more about the world around us."


About the Artists
Ghost of a Dream, the collaborative project of Lauren Was and Adam Eckstrom based in Wassaic, New York, makes their work about people's hopes and dreams out of the ephemera created trying to attain those aspirations. Their work embodies the essence of opulence while being constructed of materials that typically end up in the trash. Whether it is an old photo or travel poster that transports the viewer into a dream reality, art world ephemera, or a losing lottery ticket that gave the possibility of a future full of rich decadence, or any other collection they amass,; Ghost of a Dream uses these remnants to both re-create people's dreams and portray the dreamer.
Together they have had the honor to receive support from the Pollock-Krasner Foundation, NYFA, Joan Mitchell Foundation, Artist Resource Trust, Jerome Foundation, and received the first annual Young Masters Art Prize in London. Ghost of a Dream currently has solo exhibitions at the new MAAM museum in Boston and at the Ackland Art Museum in Chapel Hill. Ghost of a Dream's work has been featured in publications such as The New York Times, Vogue Magazine, Hyperallergic, BlouinArtinfo, ArtFCity, W Magazine, Interview Magazine, World of Interiors, and the VICE Art Talks series.
Visit ghostofadream.com for more information about the artists.
Dennis RedMoon Darkeem is an interdisciplinary Artist and Art Educator who lives and works in the Bronx. He is a member of the Wind Clan within the Yamassee Yat'siminoli tribe. He has exhibited extensively throughout in New York including at Rush Art Gallery; ABC No Rio; AiOP (Art in Odd Places); Hemispheric Institute of Performance and Politics' EMERGENYC program; Wave Hill; Bronx Museum; Bronx Art Space; Queens Museum of Art and the Bronx Academy for Art and Dance (BAAD). His awards include Bronx Council of the Arts BRIO award (Bronx Recognizes Its Own); Bronx Museum of the Arts AIM Program (Artist in the Marketplace); International Center of Photography Fellowship; the Mark Rothko Fellowship with the MoMA and Scholarship Award, Price Waterhouse Award, and the Laundromat "Create Change" Residency Program. His work has been published by The Daily News, The Bronx Arts Exchange, City Guide Magazine, and Art Policy Magazine.
Visit dennisredmoondarkeem.com for more information about the artist.
About the Curator
An award-winning public arts curator and producer, Debra Simon has more than 30 years of experience in visual and performing arts programming for civic organizations, the real estate industry, and other companies. While working at the Downtown Alliance, she created the Music at Castle Clinton concert series, Dine Around Downtown, and co-founded the River to River Festival in 2002. As the Director of Times Square Arts, Simon oversaw Midnight Moment, the world's largest digital art exhibition on electronic billboards, and the annual Valentine Heart design competition among other projects for the over 300,000 daily visitors to Times Square. As Artistic Director at Brookfield Properties, she led a national arts program that planned and executed multi-disciplinary programming, presenting over 500 free events annually in New York, Denver, Los Angeles and Houston. Collaborations with artists, architects, landscape designers, local arts organizations and presenting partners have contributed to her expertise in creating and reimagining public spaces. Current clients include Amtrak, Taconic Partners, Hudson Yard Hell's Kitchen Alliance, Fifth Avenue Association, and Third Street Music School Settlement. For more information, visit Debra Simon Art Consulting. Simon is collaborating with producer Common Ground Arts to realize Art at Amtrak.

SIGN IN OR CREATE AN ACCOUNT
Passwords are case sensitive, should be at least 10 characters long and should include 1 uppercase and 1 lowercase alpha character, 1 number and 1 special character. ! " # $ % & ' ( ) * + , - . / : ; < = > ? @ [ \ ] ^ _ ` < | > ~

Enter the email address or member number associated with your account. We will send password reset instructions.

An email with password reset instructions is on the way.

That answer wasn't correct either. We've sent you an email with instructions to reset your password instead.

Continue as Signed In Sign Out