Onboard
When you travel on an Amtrak train, it's about more than just getting from place to place. It's about a ride that's a more enjoyable experience than other forms of transportation. Take a look at the features and amenities that await onboard, then book a trip, relax and enjoy your journey.
First Class Private Rooms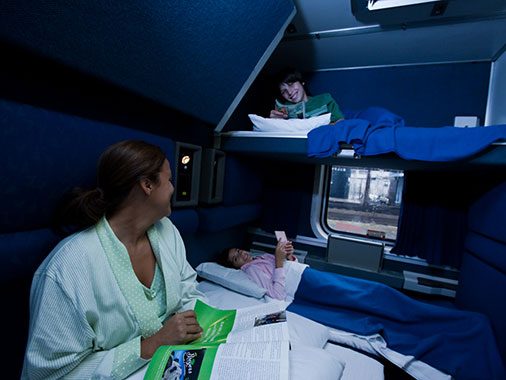 Seating Options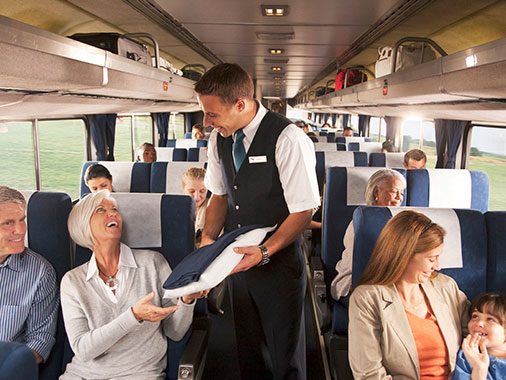 Compare onboard seating options and see the difference between Coach Class, Business Class or First Class seating.
Baggage Info & Service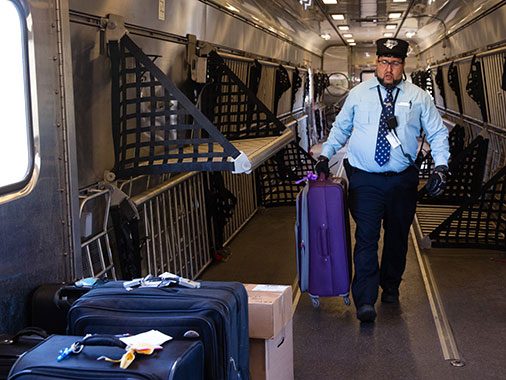 Take a look at the baggage guidelines for details on carry-on items, checked baggage and special items so you'll have everything you need for your trip.
Onboard Dining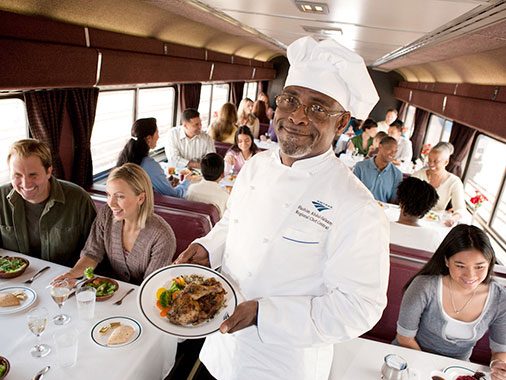 Find out more about the meals available on overnight trains, onboard Café services and the enhanced dining options for Acela customers.
Personal Food & Medication
Before you begin your trip, read the guidelines for bringing personal food, beverages and medication onboard our trains.
Bring Your Bicycle Onboard
If you'd like to ride our rails with your bike, we offer a number of different services to bring your bike onboard with you.
Quiet Car
A welcome oasis of calm in a noisy world, the Quiet Car is available on many corridor trains so you can work or unwind in peace.
Journey with WiFi
To help you stay connected when you travel, Amtrak WiFi is available in select trains and stations throughout the country.
Pets on Trains
We happily welcome dogs and cats up to 20 pounds for trips of up to seven hours on most routes (some restrictions apply).
Devices with Sound
All great adventures have background music, but we require all devices that emit sound (phones, laptops, tablets, etc.) to use headphones so fellow passengers can travel in peace.
SIGN IN OR CREATE AN ACCOUNT
Passwords are case sensitive, should be at least 10 characters long and should include 1 uppercase and 1 lowercase alpha character, 1 number and 1 special character. ! " # $ % & ' ( ) * + , - . / : ; < = > ? @ [ \ ] ^ _ ` < | > ~

Enter the email address or member number associated with your account. We will send password reset instructions.

An email with password reset instructions is on the way.

That answer wasn't correct either. We've sent you an email with instructions to reset your password instead.

Continue as Signed In Sign Out