Art at Amtrak - Fall 2023 Artwork
JOSHUA FRANKEL
Within the Crowd There is a Quality, 2023
Video Installation
Moynihan Train Hall, Main Hall Digital Screens
In Partnership with Empire State Development

Within the Crowd There is a Quality is the title of the work. It is the first piece in my new body of work about crowds. I've created a series of animation loops based on the people of New York City — my neighbors — and recombined those loops into a crowd. Within this crowd, I manipulate the speeds at which the animated pedestrians walk so that their footsteps gradually come into synchronization with each other. For one brief moment all of the people in a vast animated crowd, stretching across all four screens in the Moynihan Train Hall, will be in sync with each other. And then, they will fall back out of sync. I grew up in this neighborhood — about ten blocks north in Hell's Kitchen — and both of my grandfathers worked for the post office, one of them in the Farley building itself, which now houses the Moynihan Train Hall. So, this presentation is deeply meaningful for me.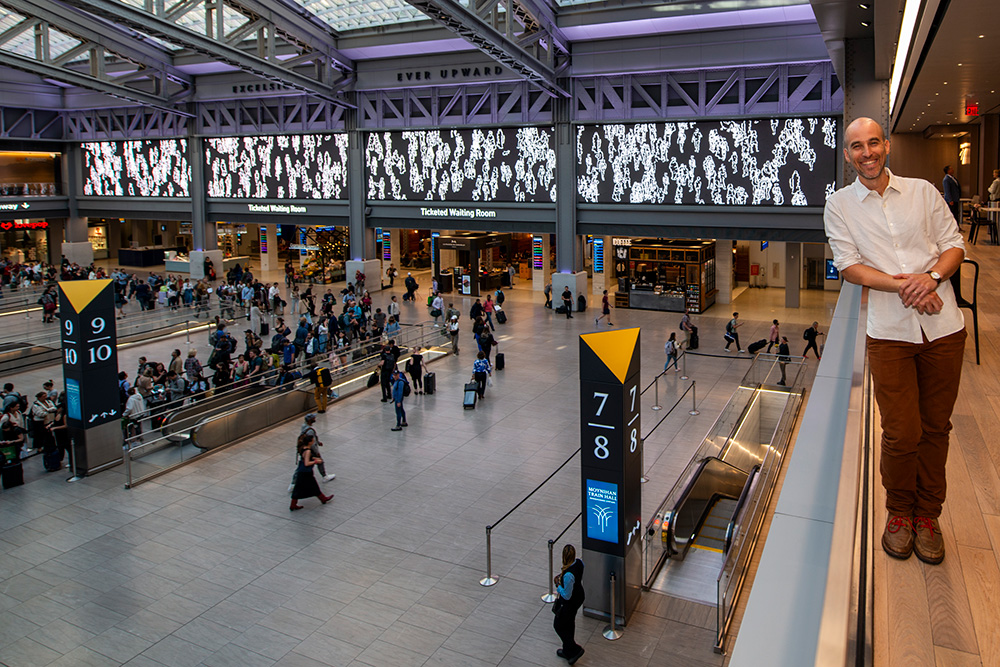 About the Artist
Joshua Frankel is an artist who makes films, operas, animations, drawings, prints, public art and multi-disciplinary experiences. His work has been presented by institutions including BAM, New Museum, Film Society of Lincoln Center, US Library of Congress, The River to River Festival, PEAK Performances, EMPAC and the UN World Urban Forum. Frankel co-conceived and directed A MARVELOUS ORDER, an opera about Robert Moses and Jane Jacobs with animation throughout, called "Stunning" by critic Heidi Waleson of the Wall Street Journal. He also created public murals in collaboration with his wife, artist Eve Biddle, including the recently restored QUEENS IS THE FUTURE.

Follow the artist on Instagram @joshuafrankel and visit his website at joshuafrankel.net.
About the Curator
An award-winning public arts curator and producer, Debra Simon has more than 30 years of experience in visual and performing arts programming for civic organizations, the real estate industry and other companies. While working at the Downtown Alliance, she created the Music at Castle Clinton concert series, Dine Around Downtown and co-founded the River-to-River Festival in 2002. As the Director of Times Square Arts, Simon oversaw Midnight Moment, the world's largest digital art exhibition on electronic billboards and the annual Valentine Heart design competition, among other projects for the over 300,000 daily visitors to Times Square. As Artistic Director at Brookfield Properties, she led a national arts program that planned and executed multi-disciplinary programming, presenting over 500 free events annually in New York, Denver, Los Angeles and Houston. Collaborations with artists, architects, landscape designers, local arts organizations and presenting partners have contributed to her expertise in creating and reimagining public spaces. Current clients include Amtrak, Taconic Partners, Hudson Yard Hell's Kitchen Alliance, Fifth Avenue Association and Third Street Music School Settlement. For more information, visit Debra Simon Art Consulting. Simon is collaborating with producer Common Ground Arts to realize Art at Amtrak. Visit dsimonartconsulting.com for more information.

SIGN IN OR CREATE AN ACCOUNT
Passwords are case sensitive, should be at least 10 characters long and should include 1 uppercase and 1 lowercase alpha character, 1 number and 1 special character. ! " # $ % & ' ( ) * + , - . / : ; < = > ? @ [ \ ] ^ _ ` < | > ~

Enter the email address or member number associated with your account. We will send password reset instructions.

An email with password reset instructions is on the way.

That answer wasn't correct either. We've sent you an email with instructions to reset your password instead.

Continue as Signed In Sign Out