Train Boarding Process
What do I need to know about boarding my train?
The boarding process is very easy, but does vary from station to station. Here are some tips to help on your journey, beginning with what you need to know about boarding your train.
How do I know my boarding gate information?
Boarding gates are usually posted 15 minutes prior to a train's departure.
Many stations have monitors and signs that display the boarding gate locations for each train. At many stations, Amtrak customer service representatives will make announcements about boarding times and gate locations.
Get automatic boarding gate notifications in the Amtrak App
You'll automatically receive gate and track notifications right on your phone if you're departing from select stations. Just download the Amtrak app and make sure "Trip Updates & Status" is enabled in the settings. To see if a station has enabled notifications, look it up here.
Look Up Your Departure Station
Search is currently unavailable.
Search by city or station code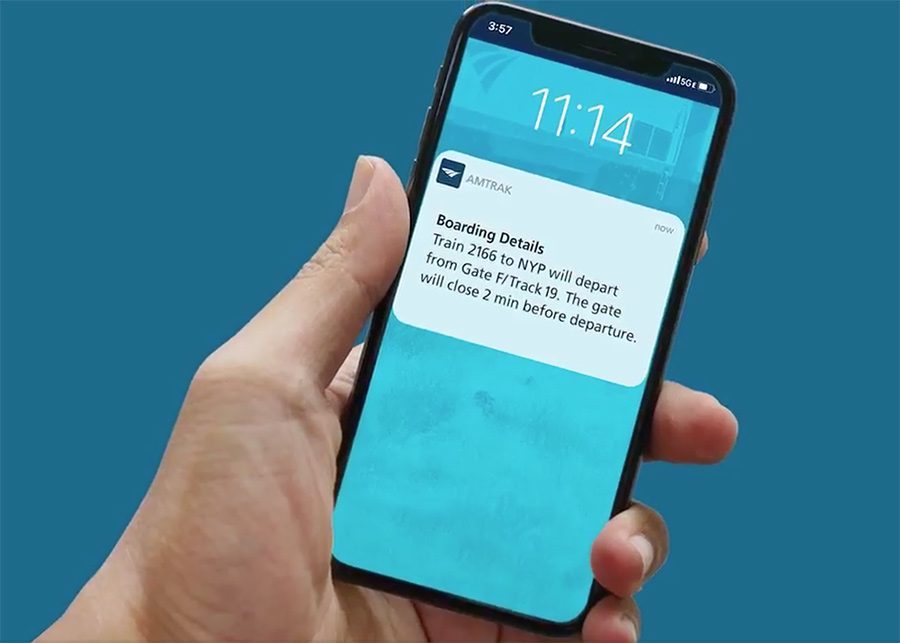 What about at unstaffed stations?
Be sure to look for signs and kiosks that give instructions for what to expect and where to board at unstaffed stations. Check Train Status on Amtrak.com and the Amtrak app before arriving at your station.
Train crews will direct you to the appropriate car and will help with luggage.
When should I arrive at the station?
Unless you're taking the Auto Train, plan to arrive 30 minutes before your scheduled departure. If you need assistance with baggage and/or ticketing, we recommend you arrive 60 minutes early.
There are special boarding procedures and check-in times for Auto Train, so passengers should arrive at the station at least two hours prior to departure.
Priority boarding
At Boston - South Station and Albany, we invite select passengers to move from the waiting area to the platform first. If you're in one of these groups, we'll need to verify your eligibility for early boarding, so be sure to have your eTicket open on your device screen or printed ticket handy while waiting to board.

Amtrak Guest Rewards Select Executive and Select Plus members
Passengers traveling in Sleeping Car accommodations
Passengers traveling in Acela First class
Passengers traveling in non-Acela Business class
Senior citizens aged 65 and over
Active duty military personnel
Families with young children
Anyone needing assistance to board
At some stations it may be necessary to close boarding gates three to ten minutes prior to train departure to make sure you can board your train safely.
Checking tickets at the gate
Seat selection is available when booking a ticket on Acela trains and in Business class on Northeast Regional trains so you can select your preferred seat prior to boarding the train.
In Seattle, Portland, OR and for long distance service originating in Los Angeles and Albuquerque we offer assigned seating at the station, so if you're traveling from these stations you'll need to show your ticket to an Amtrak employee at the gate prior to boarding.
Safety first
Always remain behind the yellow line and safety strip on the platform while waiting for trains; trains stop very close to the edge of the platform. In some stations, not all trains stop at the platform while continuing through, so stay clear of these moving trains.
When boarding a train, be mindful of the gap between the platform and the train, always hold handrails for support and hold small children by the hand.
SIGN IN OR CREATE AN ACCOUNT
Passwords are case sensitive, should be at least 10 characters long and should include 1 uppercase and 1 lowercase alpha character, 1 number and 1 special character. ! " # $ % & ' ( ) * + , - . / : ; < = > ? @ [ \ ] ^ _ ` < | > ~

Enter the email address or member number associated with your account. We will send password reset instructions.

An email with password reset instructions is on the way.

That answer wasn't correct either. We've sent you an email with instructions to reset your password instead.

Continue as Signed In Sign Out