Art at Amtrak - Summer 2022 Artworks
SAYA WOOLFALK
Part of The Empathics Universe, 2022
Digital print on vinyl adhesive film
Penn Station Rotunda & Ticketed Waiting Area

The relationship between humans and nature has been an enduring theme in Saya Woolfalk's multi-year science fiction-inspired project, The Empathics. In this series of mixed-media artworks, a fictional race of women are able to alter their genetic make-up and fuse with plants. For Art at Amtrak, Woolfalk is focused on natural healing and the innate human instinct to connect with nature. This project is a series of new digital collages simulating a natural environment, designed by using the forms and patterns of medicinal plants found in New York and New Jersey, as well as local landscape scenes depicted in the paintings of Hudson River School artists from the mid-19th century.
Woolfalk says, "My installation at Penn Station will be a fantastical immersive experience people will encounter as they go about their daily routines. It is my hope to offer everyone a moment of respite, beauty, and nature in the middle of the built urban environment."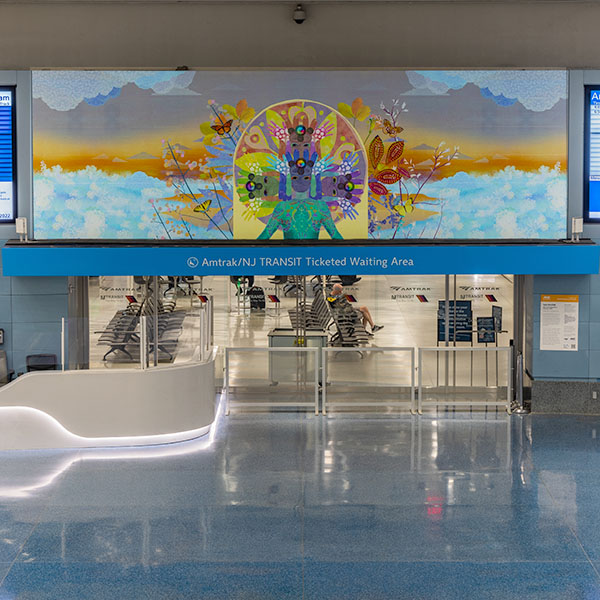 DAHLIA ELSAYED
"Parallel Incantations", 2022
Digital print on vinyl adhesive film
Penn Station Concourse


Dahlia Elsayed's vibrant project for Art at Amtrak, "Parallel Incantations", surrounds a Penn Station waiting area with an illusion of infinite space. The artist draws inspiration from ancient Egyptian temples and Islamic architecture, transforming the space with suggestions of expansiveness, air, and ambient light. As it evokes pilgrimage and ritual, this site-specific installation provides a poetic connection to a sense of deep time and travel.
Elsayed says, "For this project, I wanted to make a visual poem for a waiting area — the space between coming and going, and to create a place within a physical transportation hub for viewers to be transported sensorially."
About the Artists
Saya Woolfalk, born in 1979 in Gifu City, Japan and raised in the United States, creates works of art that incorporate the African American, European American, and Japanese influences of her family background. Also alluding to science fiction, feminist theory, mythology, anthropology, archaeology, Eastern religion, and fashion, she re-imagines a utopian, empathic world through painting, sculpture, video, performance, multimedia installations, and public artworks. Her monumental digital projection installation "Floating World of the Cloud Quilt" is now on view at BAM, and her solo exhibition Saya Woolfalk: Field Notes from the Empathic Universe is at The Newark Museum of Art through December 31. Woolfalk is currently working on a multi-part installation, commissioned by the Pennsylvania Academy of Art and three public monuments in three U.S. Cities dedicated to Coretta Scott King (Atlanta); Marjorie Stoneman Douglas (Miami) and Ruth Bader Ginsberg (Los Angeles), supported by the Hulu streaming service. Saya Woolfalk is represented by Leslie Tonkonow Artworks + Projects.
Woolfalk has presented multimedia works and performances at museums, galleries, and alternative spaces throughout the U.S. and in Asia including solo shows at the Newark Museum of Art, NJ: the Nelson Atkins Museum, Kansas City, MO; the Contemporary Arts Center, Cincinnati, OH; the Mead Art Museum, Amherst, MA; The SCAD Museum of Art, Savannah, GA; the Sheldon Museum of Art, Lincoln, NE; the Chrysler Museum of Art, Norfolk, VA; the Everson Museum of Art, Syracuse, NY among others. She has also participated in group shows at the Brooklyn Museum; the Fowler Museum, Los Angeles; the Seattle Art Museum; the Studio Museum in Harlem; MoMA PS1; the Museum of Contemporary Art, Chicago; the Contemporary Art Museum, Houston; Yerba Buena Center for the Arts, San Francisco; Performa 09, New York and many others.

Dahlia Elsayed is an artist and writer who creates short fictions for created landscapes that take the form of narrative paintings, print, and installation. Her work pairs diasporan narrative with a terra firma, connecting internal and external sense of place and creating what she calls "myth pictures for placelessness." These allegorical landscapes use a symbolic vocabulary rooted in cartography, comics, and cosmology to make visual narratives that tell unreliable oral histories and anticipate alternate futures. Elsayed's interest in these themes stems from her own experience of displacement over multiple generations of her family. These involuntary movements from continent to continent, with little belongings but much in story, have formed the way she thinks about place and lore.
Recent projects include a large site-specific painting for United Airlines at Newark Airport and the exhibitions Converging Lines: Tracing the Artistic Lineage of the Arab Diaspora in the US, at the Middle East Institute (MEI) Art Gallery in Washington, DC; and The Good and the True, at Paul Robeson Galleries in Newark, NJ. Elsayed's work has also been exhibited at galleries and institutions throughout the United States and internationally, including the 12th Cairo Biennale, Robert Miller Gallery, BravinLee Programs, The New Jersey State Museum and Aljira Center for Contemporary Art. Her work is in the public collections of the Newark Museum, the Zimmerli Museum, Johnson & Johnson Corporation, and the US Department of State, among others. Elsayed has received awards from the Joan Mitchell Foundation, the Edward Albee Foundation, Visual Studies Workshop, the MacDowell Colony, Women's Studio Workshop, Headlands Center for the Arts, and the NJ State Council on the Arts. She received her MFA from Columbia University, and lives and works in New Jersey. Elsayed is Professor of Humanities at CUNY LaGuardia Community College in Long Island City, NY.
About the Curator
An award-winning public arts curator and producer, Debra Simon has more than 30 years of experience in visual and performing arts programming for civic organizations, the real estate industry, and other companies. While working at the Downtown Alliance, she created the Music at Castle Clinton concert series, Dine Around Downtown, and co-founded the River to River Festival in 2002. As the Director of Times Square Arts, Simon oversaw Midnight Moment, the world's largest digital art exhibition on electronic billboards, and the annual Valentine Heart design competition among other projects for the over 300,000 daily visitors to Times Square. As Artistic Director at Brookfield Properties, she led a national arts program that planned and executed multi-disciplinary programming, presenting over 500 free events annually in New York, Denver, Los Angeles and Houston. Collaborations with artists, architects, landscape designers, local arts organizations and presenting partners have contributed to her expertise in creating and reimagining public spaces. Current clients include Amtrak, Taconic Partners, Hudson Yard Hell's Kitchen Alliance, Fifth Avenue Association, and Third Street Music School Settlement. For more information, visit Debra Simon Art Consulting. Simon is collaborating with producer Common Ground Arts to realize Art at Amtrak.

SIGN IN OR CREATE AN ACCOUNT
Passwords are case sensitive, should be at least 10 characters long and should include 1 uppercase and 1 lowercase alpha character, 1 number and 1 special character. ! " # $ % & ' ( ) * + , - . / : ; < = > ? @ [ \ ] ^ _ ` < | > ~

Enter the email address or member number associated with your account. We will send password reset instructions.

An email with password reset instructions is on the way.

That answer wasn't correct either. We've sent you an email with instructions to reset your password instead.

Continue as Signed In Sign Out