Traditional Dining
Service Change
Traditional dining service has been temporarily suspended on all routes with the exception of the Auto Train. Through May 21, 2021, customers in private rooms will be offered flexible dining service; Coach customers will be offered Café service.
Traditional dining service is provided in the Dining Car on the California Zephyr, Coast Starlight, Empire Builder, Southwest Chief, Sunset Limited and Texas Eagle. Breakfast, lunch and dinner are served. Customers in private rooms enjoy complimentary meals throughout their journey. Coach class customers are invited to purchase meals in the Dining Car.
Aboard the Auto Train, complimentary traditional dining service in the Dining Car is offered as an exclusive benefit for customers in private rooms.
Dining Cars feature seasonal menus with a variety of entree selections. Complement your meal with a wide selection of beverages, including beer, wine, spirits for sale. Be sure to leave room for dessert — there's something to satisfy every sweet tooth. In addition to our regular menu items, kids can get all their favorites onboard.
Café service is also available to all customers along these routes, offering a variety of meals, snacks and beverages for sale.
Sample Menus
Get a taste of traditional dining selections by sampling each route menu:
Our menus are updated regularly, so selections and prices are subject to change.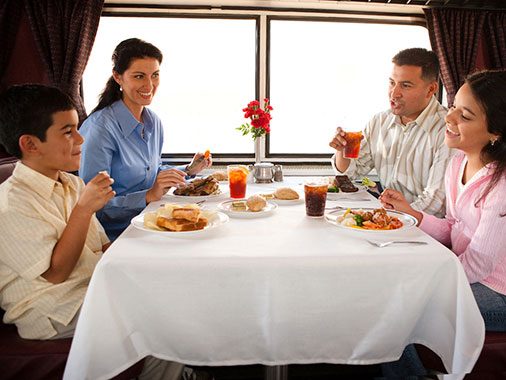 Making Reservations
Customers on routes with traditional dining service should make reservations for lunch and dinner. A member of the Dining Car staff will go through the train so you can select a preferred time for your meal. Traditional dining service offers communal seating in the Dining Car, providing a unique opportunity to dine and socialize with a fellow rider.
Meal Times
Breakfast: Available 6:30 - 10 am; board by 9:30 am
Lunch: Available 11:30 am - 3 pm; board by 2:30 pm
Dinner: Available: 5:00 - 9:30 pm; board by 8:30 pm
Exceptions apply to certain trains and adjustments may be made in the event of a delay.
SIGN IN OR CREATE AN ACCOUNT
Passwords are case sensitive, should be at least 10 characters long and should include 1 uppercase and 1 lowercase alpha character, 1 number and 1 special character. ! " # $ % & ' ( ) * + , - . / : ; < = > ? @ [ \ ] ^ _ ` < | > ~

Enter the email address or member number associated with your account. We will send password reset instructions.

An email with password reset instructions is on the way.

That answer wasn't correct either. We've sent you an email with instructions to reset your password instead.

Continue as Signed In Sign Out