Acela Dining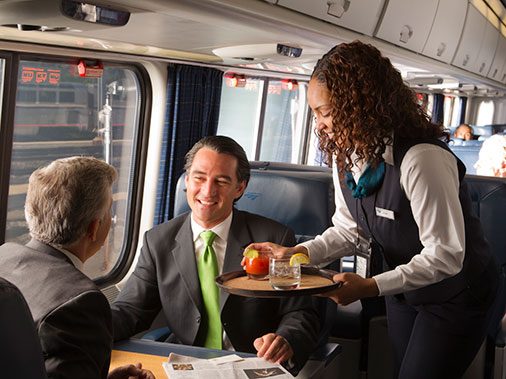 At-Seat Meals
Exclusive to First-Class Passengers
We look forward to welcoming you in Acela First Class. Once onboard, you'll enjoy complimentary at-seat meal and beverage service provided by our onboard staff of First Class attendants. Selections include freshly prepared chef inspired entrees as well as alcoholic and non-alcoholic beverages.

Menus rotate approximately every three weeks.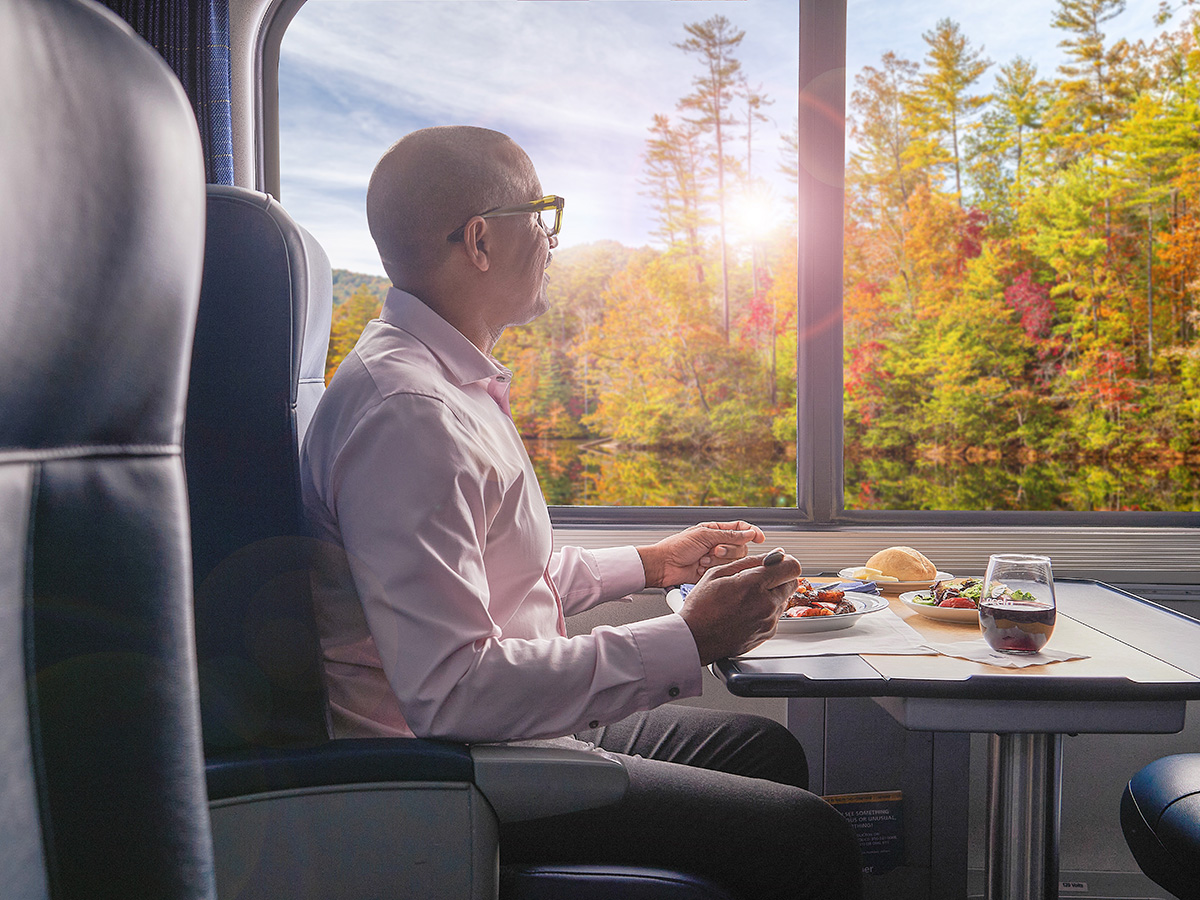 New Fall & Winter Dishes Exclusive to Acela First Class
Amtrak is proud to extend our partnership with visionary restaurateur Stephen Starr, continuing to bring onboard his renowned, delectable cuisine made from simple, fresh ingredients. Starting this fall and through winter, customers will enjoy a new rotating selection of signature dishes onboard from iconic STARR restaurants such as Le Diplomate, PARC and the Continental Mid-Town.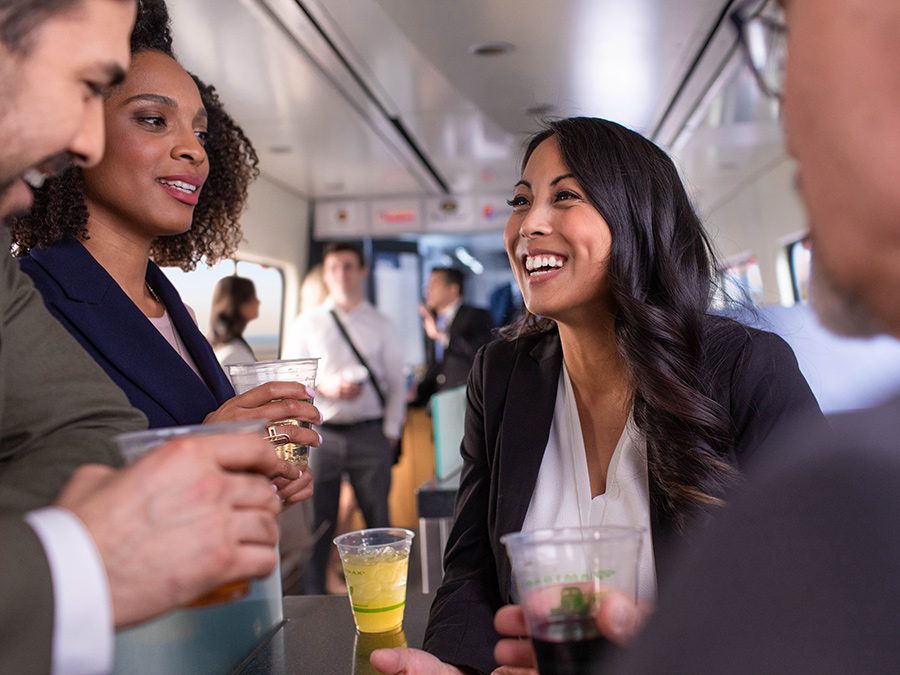 Café Acela
Open to All Acela Passengers
Great food is hard to find when you're rushing to catch your train. Café Acela is open on all departures and offers a wide variety of items to help make your trip aboard more enjoyable.
Café Acela features many popular brands including Crafthouse Cocktails, DiGiorno, Dogfish Head and other quality providers, featuring entrees, snacks, freshly brewed Starbucks coffee and craft beers. With most items priced under $9 and ready in minutes, you can have a bistro experience and savor the unique flavor of Café Acela.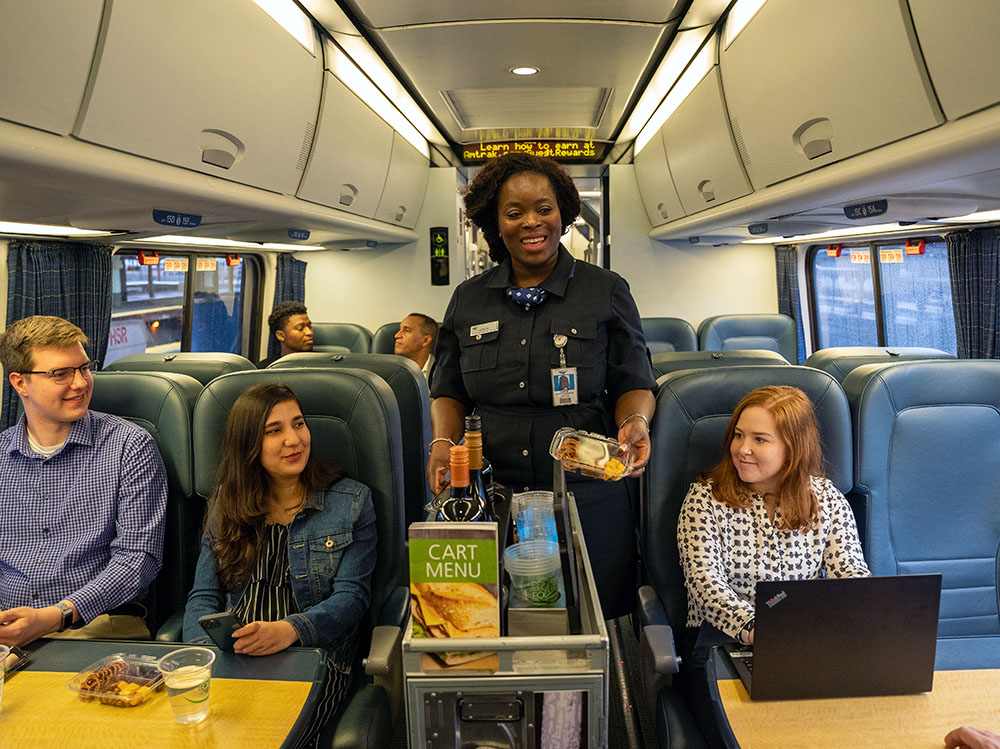 Acela Cart Service
Available for Business Class Customers on Select Departures
Stay comfortable in your seat and enjoy a bite to eat. We're excited to offer an option to purchase a selection of food and beverages at your seat with our new Acela Cart Service. From Monday through Friday, customers in Acela Business Class on select departures will have the ability to purchase exclusive new food items, wine by the glass, beer and other alcoholic beverages directly from a roving cart. Cart service can be found on these trains:
2168 and 2169, between Washington, DC and New York City
2158 and 2193, between New York City and Boston, MA
Order at Seat
A New Offering for Business Class Customers on Select Departures
If you want more time to enjoy the views out of your window while enjoying something to eat, take advantage of Order at Seat. On select Acela departures you can skip the line, order favorites from the café right from your phone and pick up your order once it's ready. At certain times, you can also choose to have your order delivered directly to your seat. Order at Seat is featured on these trains:
Monday - Friday: Trains 2160, 2163, 2170
Saturday - Sunday: Trains 2250, 2253, 2254
SIGN IN OR CREATE AN ACCOUNT
Passwords are case sensitive, should be at least 10 characters long and should include 1 uppercase and 1 lowercase alpha character, 1 number and 1 special character. ! " # $ % & ' ( ) * + , - . / : ; < = > ? @ [ \ ] ^ _ ` < | > ~

Enter the email address or member number associated with your account. We will send password reset instructions.

An email with password reset instructions is on the way.

That answer wasn't correct either. We've sent you an email with instructions to reset your password instead.

Continue as Signed In Sign Out