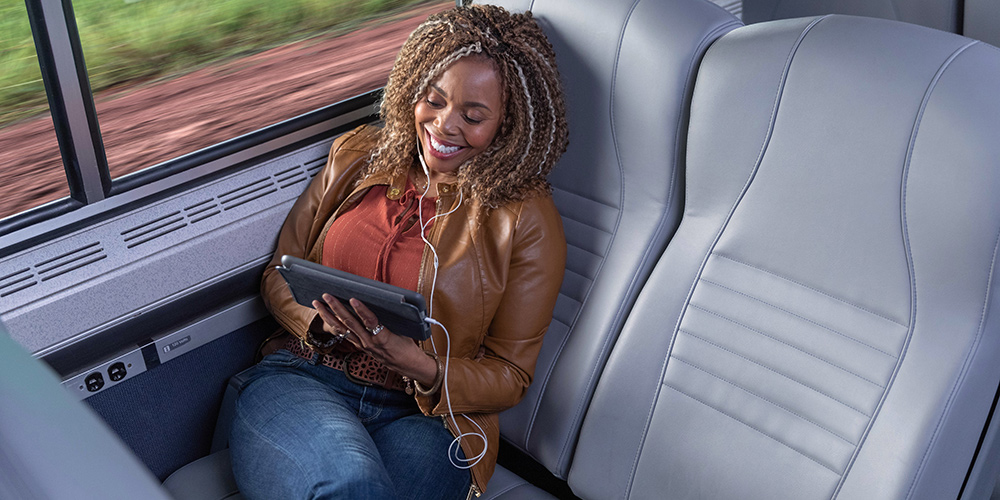 Coach Class Seating on Unreserved Services
Coach Class Seating on Unreserved Services
Only the Pacific Surfliner, Capitol Corridor and Hiawatha routes have unreserved coach seating, which provides maximum flexibility for deciding when to travel. Unreserved coach tickets allow you to take an earlier or later train, or even ride at a later date, without having to make a change to the reservation. Your ticket is valid for travel between the listed station pairs up to one year from the date of the reservation (with certain restrictions). 
Coach class features wide, comfortable reclining seats with ample legroom. There is also a fold-down tray, individual reading light, and a 120v electric outlet at each seat. Other onboard amenities include restrooms in each coach, overhead baggage storage and complimentary WiFi.
Seating in coach class on unreserved trains is not guaranteed. Pacific Surfliner passengers have the option of upgrading to Business Class (for an additional cost) which offers a guaranteed seat, as well as other perks like complimentary snacks and drinks.
Business Class and Thruway Bus tickets are tied to specific trains/buses, so you will need to modify your reservation (at no cost) in advance if your trip includes these services. Trips can be modified online, at an Amtrak ticket window (staffed stations), at an Amtrak Self-Service Kiosk (at most stations), through the Amtrak App, or by calling 1-800-USA-RAIL.