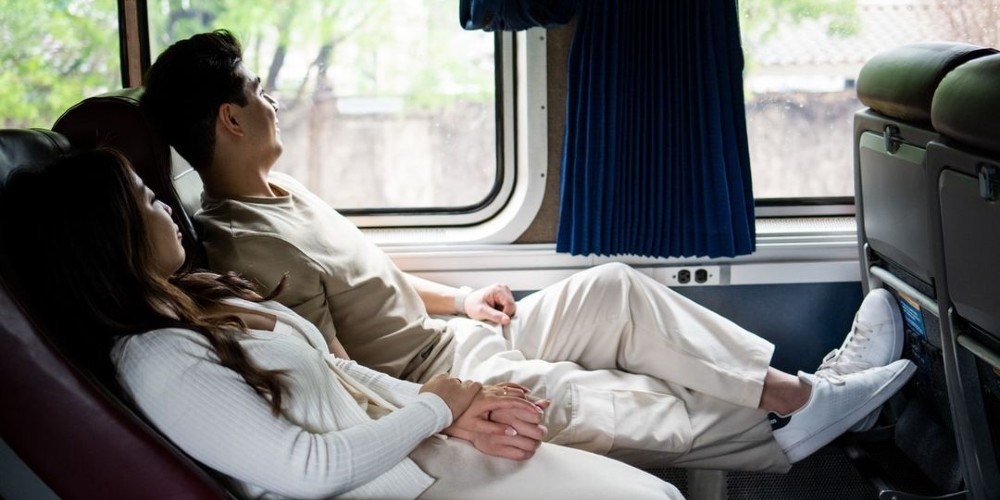 Ten Tips for Sleeping Overnight in Coach
Ten Tips for Sleeping Overnight in Coach
Planning a long-distance journey on Amtrak and wondering if it's possible to sleep comfortably in a Coach seat? Wonder no more, we're here to answer all your questions. While overnight sleeping in Coach might not measure up to the one-of-a-kind experience of sleeping in a private room, there are some tips and tricks that can turn your overnight trip into an even dreamier, restful experience. Our wide reclining seats with tons of legroom and adjustable footrests will take you to Snoozeville (population: you) in no time. Here are 10 tips for overnight sleeping in Coach.

1. Choose Your Seat Wisely
Your journey begins by choosing the right seat for sleep. For starters, finding your way to the designated Quiet Car will be your best Coach-seat-bet for a night with the fewest disruptions. If you have trouble finding the Quiet Car, the conductor will be able to point you in the right direction. If possible, try to get a window seat, as this will give you a wall to lean against—the curvature from the wall to the window might be the perfect match for your sleepy head. Also, avoid seats near the bathroom, as these can be noisy and busy.

2. Bring a Neck Pillow
A neck pillow can make a huge difference in your comfort level when sleeping in Coach. It will help you keep your head and neck relaxed, reducing the risk of stiffness or pain. You can make more comfortable use of sleeping in a forward position while resting on your arms atop the folding table in the seatback in front of you when you come equipped with a neck pillow.

3. Wear Comfortable Clothing (& Shoes)
When traveling long distances on Amtrak, it's important to wear comfortable clothing, especially if you plan to sleep in a Coach seat. Loose-fitting clothes that are made of breathable fabrics (think: athleisure) will be your best bet for feeling cool and unrestricted as you sleep. Likewise, your shoes should feel equally comfortable so it's important to wear ones you can sleep in.

4. Pack Earplugs and Eye Mask
If you are a light sleeper, earplugs and an eye mask can help you block out noise and light, creating a more comfortable sleeping environment—this is especially helpful if a Quiet Car isn't available to you. If you're the type of sleeper who needs white noise like a box fan to help mute your brain, you'll probably find that the general ambient train sounds will suffice.

5. Bring a Blanket
Whether or not you're traveling in the winter months, the added comfort of a soft blanket goes a long way toward a restful night on the train. Amtrak Comfort Kits (containing a polyester blanket, inflatable neck pillow, eye mask, and earplugs in a portable travel pouch) are available for purchase on the train or via the Amtrak store if you want an all-in-one solution for your Coach sleeping travels.

6. Travel with a Friend
What better way to ensure that you're not trying to sleep next to (and potentially "drooling on") a stranger than by bringing a friend along for the adventure? Plus, the more friends you bring, the more money you save if you take advantage of Amtrak's Share Fares offering. You may want to vet your friends ahead of time for their snoring habits.

7. Bring Your Own Snacks and Water
To avoid having to leave your seat during the night, consider bringing your own snacks and water; this will help you stay comfortable and hydrated throughout the night. Given all that we've advised you to bring thus far we wouldn't fault you for wanting to travel light; however, it's a good thing there's a Café Car with a variety of dietary conscious options to tide you over for the night.

8. Adjust Your Seat
The average Amtrak Coach seat measures 23 inches in width (compared to around 17 inches for airplane equivalent seating) with exceptional legroom and the ability to recline for an even more comfortable sleeping position. For restfulness and great posture, we recommend sitting fully reclined with your feet on the footrest and your knees relaxed.

9. Stretch Before Sleeping
Before settling in for the night, take a few minutes to get up and stretch your muscles. Standing up in the aisle and recirculating is totally normal and encouraged on an Amtrak train. This will help you relax and reduce the risk of cramping and stiffness. If you wish to be more discreet about your stretching, there are plenty of effective stretches that can be done while seated, especially for your neck and shoulders.

10. Relax and Enjoy the Journey
Finally, remember to relax and enjoy the fact that you're on a train. You won't have to worry about falling asleep at the wheel or booking a chiropractic appointment as soon as you hobble off a plane. Bring a comforting audiobook or a soothing podcast and enjoy the ride.

SIGN IN OR CREATE AN ACCOUNT
Passwords are case sensitive, should be at least 10 characters long and should include 1 uppercase and 1 lowercase alpha character, 1 number and 1 special character. ! " # $ % & ' ( ) * + , - . / : ; < = > ? @ [ \ ] ^ _ ` < | > ~

Enter the email address or member number associated with your account. We will send password reset instructions.

An email with password reset instructions is on the way.

That answer wasn't correct either. We've sent you an email with instructions to reset your password instead.

Continue as Signed In Sign Out