Leave Driving Behind
Instead of being stuck in traffic on I-95, you and your vehicle could Get Carried Away on the Auto Train. Simply pack your car with everything you need for your trip between Lorton, Virginia (near Washington DC) and Sanford, Florida (near Orlando) and leave the driving behind.
Once you're onboard you can break out the cards, enjoy a meal and binge-watch your favorite series. Comfortable seats mean you can stretch out with miles of legroom or experience the ride from the privacy of your own sleeper. And with new low fares starting at $95 (plus the cost of your vehicle), it's time to welcome the end of road trip hassles and enjoy a stress-free route by rail aboard the Auto Train.
Skip I-95 for $95 on Auto Train
Experience the Auto Train between DC and Florida with Coach fares as low as $95 + the cost of your vehicle.
Get to Know the Auto Train
Rooms and Seating
Coach class features wide, reclining seats with ample legroom and no middle seat. Or upgrade your experience with one of four types of sleeping accommodations (Roomettes, Bedrooms, Family Rooms and Accessible Bedrooms) as well as upgraded bedding and in-room amenities that meet all needs.
Baggage, Vehicles and Check-In
Learn about vehicle specifications, check-in times and how to ensure your vehicle is one of the first ones off the train upon arrival.
Vehicle Types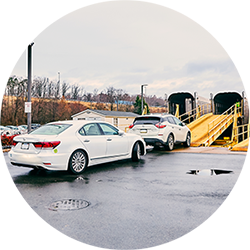 Pack your car like a suitcase. And with our special auto carriers, we can carry a wide variety of vehicle types — including cars, SUVs and motorcycles (dimension and clearance restrictions apply).
Check In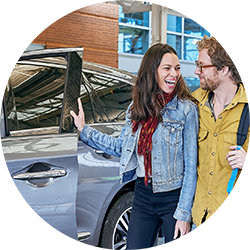 Check-in starts at 12:30 pm and closes at 3:00 pm for all vehicle types on the day of departure. No exceptions can be made, so be sure to plan your arrival to the station accordingly.
Priority Offloading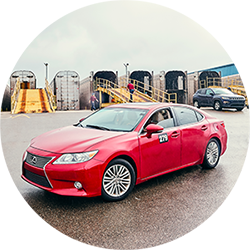 Speed up your journey with a time-saving upgrade option for Auto Train. Reserve Priority Vehicle Offloading when you're booking and your vehicle will be one of the first 30 offloaded from the train.
What to Expect
Leave behind the worries of driving between DC and Florida and enjoy a stress-free route of the Auto Train.

Traditional Dining for Sleepers
Complimentary traditional dining service is provided in the Dining Car for Sleeping Car customers. Dinner (with complimentary wine) and breakfast are served.
Café Service for Coach
Coach customers can purchase meals, snacks and beverages in the Cross-Country Café. Plus, a complimentary continental breakfast is served in the Cross-Country Café prior to arrival.
Free WiFi
Luckily you don't go off the grid with our free basic WiFi onboard and in the station.
Sleeping Car customers can expect an enhanced experience aboard the Auto Train. Here are some of the new things you'll find on your trip:
Upgraded bedding, pillows, towels, linens and terry added to every room
For an extra touch, duvets added to all Bedrooms, Family Bedrooms and Accessible Bedrooms
A la carte travel products on demand: Beekman shampoos, lotions and body wash as well as toothpaste, shower shoes, make-up remover and ear plugs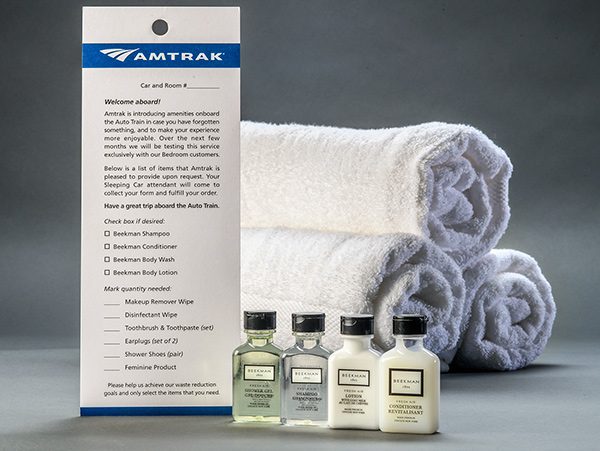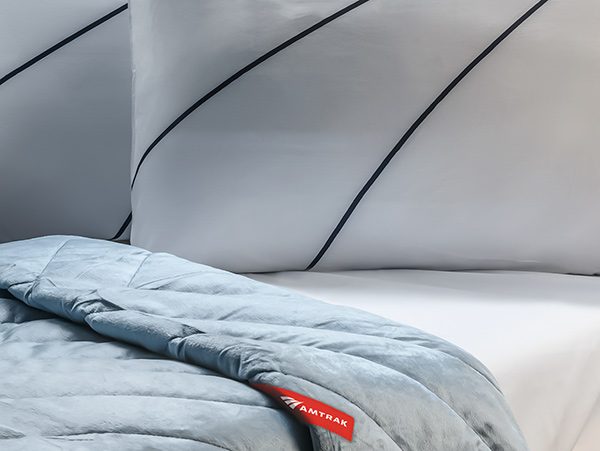 MAKE ALL ROADS LESS TRAVELED:
Each year, the Auto Train takes 95 million miles off I-95.
SIGN IN OR CREATE AN ACCOUNT
Passwords are case sensitive, should be at least 10 characters long and should include 1 uppercase and 1 lowercase alpha character, 1 number and 1 special character. ! " # $ % & ' ( ) * + , - . / : ; < = > ? @ [ \ ] ^ _ ` < | > ~

Enter the email address or member number associated with your account. We will send password reset instructions.

An email with password reset instructions is on the way.

That answer wasn't correct either. We've sent you an email with instructions to reset your password instead.

Continue as Signed In Sign Out