Track Your Train with Google Maps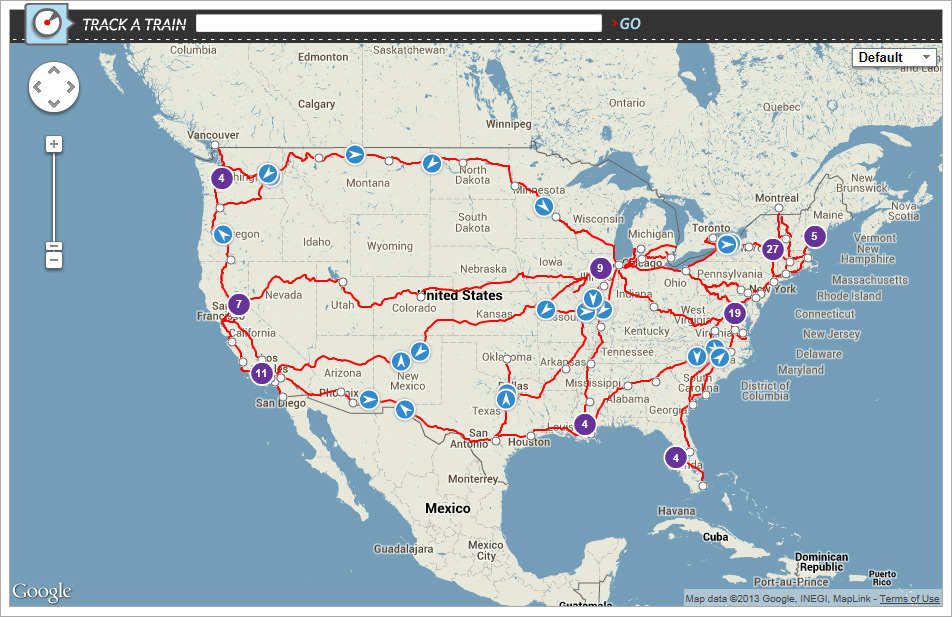 We've launched an interactive tool that we created with Google to help you track any of our more than 300 daily trains and more accurately predict arrival times.
The train location tracking map on Amtrak.com gives you train statuses, estimates of arrival times and even station information for every Amtrak train across the entire Amtrak system. That means the map covers coast to coast movements, 365 days a year and can be accessed 24 hours a day with just the click of a mouse.
To access the map, click here.
Here are some tips:
This map is best viewed on desktop.
Interact with the map like a standard Google map by dragging the map to move left, right, up and down. Zoom in and out to get
see more or less detail.
All routes, stations and active trains across the US and into Canada are represented.
Blue icons show train location and direction of travel at a glance.
Multiple trains in an area represented by a numbered icon. Zoom in to see individual trains.
Click on the train icons to get status details, direction of travel, speed and travel history.
Click on station icons to get station address and lists of trains arriving and departing that station.
The search tool lets you look for a specific train by number, a station or route by name.

Click here to learn How to Track Train Status in Real Time.
SIGN IN OR CREATE AN ACCOUNT
Passwords are case sensitive, should be at least 10 characters long and should include 1 uppercase and 1 lowercase alpha character, 1 number and 1 special character. ! " # $ % & ' ( ) * + , - . / : ; < = > ? @ [ \ ] ^ _ ` < | > ~

Enter the email address or member number associated with your account. We will send password reset instructions.

An email with password reset instructions is on the way.

That answer wasn't correct either. We've sent you an email with instructions to reset your password instead.

Continue as Signed In Sign Out