Sleeping Accommodations 101: Roomette vs. Bedroom
So you need a little digital detox and you're finally ready to take that cross-country trip with us. Hooray! We can't wait to show you America by rail. But before you turn off your phone and enjoy the journey, you need to decide on your sleeping accommodations. To make the most out of your trip, read on to find out the best option for you.
Roomettes
Equipped with a landscape window in every room, our roomettes are perfect for the solo traveler or a couple of adventurers. Each room has two comfy seats, two beds, outlets and a fold-down table. The dimensions of each roomette are 3'6' X 6'6 and have room for two adults — a great cozy option for first time riders.
Other Amenities Include:
Two reclining seats which convert to a bed and an upper bunk that folds down
All dinning car meals included for roomette occupants
Personal room attendant – turn down, coffee and bedding
Reading lights
Climate control
Garment rack
Fresh towels and bed linens
Bottles of water
Bedrooms
If you'd like a bit more space on your journey, try booking a bedroom for your next trip with us. Each bedroom has the capacity of two adults (with an option for a third), one to two suitcases and are 6'6" x 7'6". Unlike roomettes, our bedrooms also have an in-room toilet, shower and a sofa that converts to a bed. Travelers looking to stretch out and upgrade from our roomette should explore our bedroom option.
Other Amenities Include:
Everything in the roomette plus…
An Armchair
An even bigger landscape window
Private sink and vanity
Toilet and shower
Just to Recap:
| Type of Room | Capacity | Toilet | Shower |
| --- | --- | --- | --- |
| Roomette | 2 Adults | *None | None |
| Bedroom | 2-3 Adults | 1 | 1 |
*Roomettes on our Viewliner trains are equipped with a toilet in the room.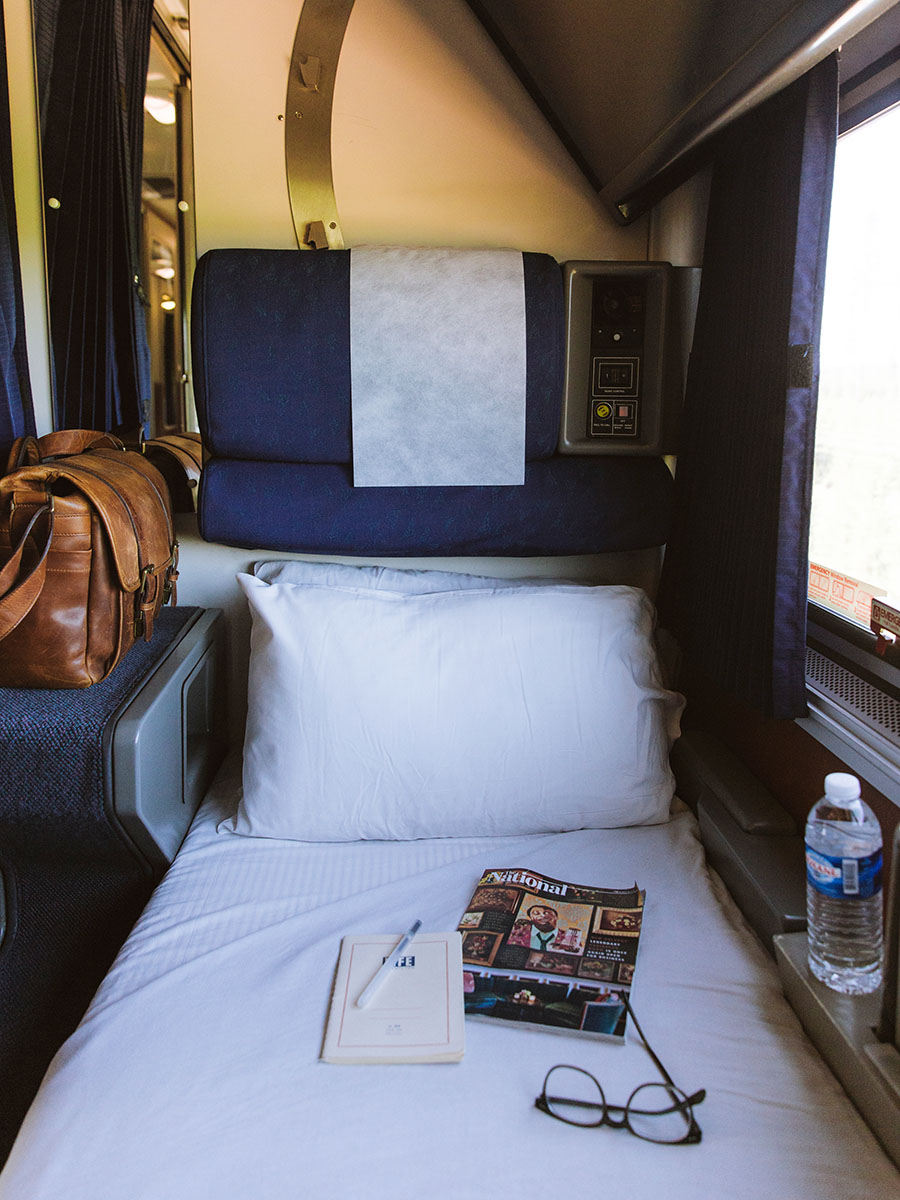 SIGN IN OR CREATE AN ACCOUNT
Passwords are case sensitive, should be at least 10 characters long and should include 1 uppercase and 1 lowercase alpha character, 1 number and 1 special character. ! " # $ % & ' ( ) * + , - . / : ; < = > ? @ [ \ ] ^ _ ` < | > ~

Enter the email address or member number associated with your account. We will send password reset instructions.

An email with password reset instructions is on the way.

That answer wasn't correct either. We've sent you an email with instructions to reset your password instead.

Continue as Signed In Sign Out