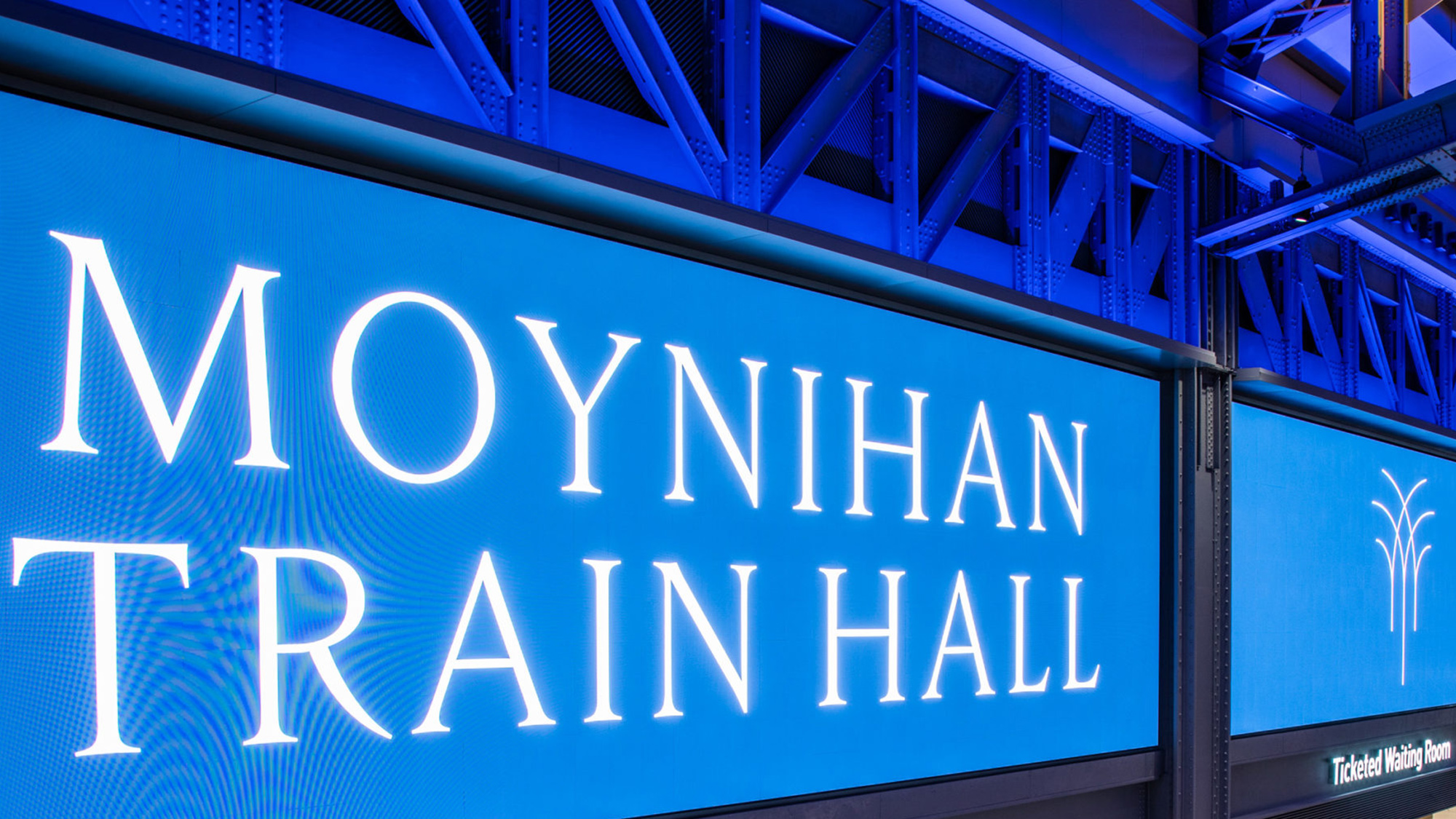 Moynihan Train Hall at New York Penn Station
Moynihan Train Hall at New York Penn Station
The Moynihan Train Hall is the home of Amtrak in New York City — a world-class station for a world-class city.
Offers a new, modern experience for the busiest train station in the Western Hemisphere
The Moynihan Train Hall is located directly across from New York Penn Station at 8th Avenue in the historic James A. Farley Post Office Building.
To better serve Amtrak intercity customers and commuter rail passengers, Amtrak, in partnership with Empire State Development (State of New York), expanded into the new Moynihan Train Hall to improve passenger comfort and security.
Enhanced customer amenities include:
A grand and spacious train hall featuring a sky lit atrium
Dedicated customer waiting areas
A combined ticketing and baggage area
Improved passenger comfort and security
Accessibility for customers with disabilities
Inductive loop system for hearing assistance
Complimentary WiFi in all customer spaces
Dedicated lactation lounge for nursing mothers

New Metropolitan Lounge
The Metropolitan Lounge is a premium lounge space providing travelers with a high-quality experience, including:
Priority boarding
Expanded food and beverage offerings
Balcony seating overlooking the Train Hall
Full-service bar with a variety of beer, wine, cocktails and a curated selection of meals available for purchase
Family waiting area
Dedicated customer service agents
Private restrooms
Complimentary WiFi

Hours of Operations
Moynihan Train Hall is open to the public daily from 5 am through 1 am and closed to the public between 1 am and 5 am. Between 1 am and 5 am, all Amtrak operations are handled at New York Penn Station, including baggage, Red Cap services, access and egress to platforms.
Moynihan Train Hall FAQs
No. Moynihan Train Hall and New York Penn Station operate as one complex. Though Amtrak maintains a presence at Penn Station, Moynihan Train Hall is our new home in New York City. You can reach both stations from the platforms of Tracks 5 - 21.

8th Avenue between W 31st and W 33rd Street, directly across from Penn Station. There are multiple entrances along 8th Avenue and 9th Avenue, and mid-block entrances on W 31st and 33rd Street.

The taxi area is located at mid-block on 31st Street between 8th and 9th Avenues (near the main entrance). The rideshare area is located mid-block on 33rd Street between 8th and 9th Avenue.

Yes. Amtrak has staff at Moynihan Train Hall and at New York Penn Station to assist passengers..
SIGN IN OR CREATE AN ACCOUNT
Passwords are case sensitive, should be at least 10 characters long and should include 1 uppercase and 1 lowercase alpha character, 1 number and 1 special character. ! " # $ % & ' ( ) * + , - . / : ; < = > ? @ [ \ ] ^ _ ` < | > ~

Enter the email address or member number associated with your account. We will send password reset instructions.

An email with password reset instructions is on the way.

That answer wasn't correct either. We've sent you an email with instructions to reset your password instead.

Continue as Signed In Sign Out