Buy Train Tickets to Chicago
Buy Train Tickets to Chicago
Chicago's Train Station Essentials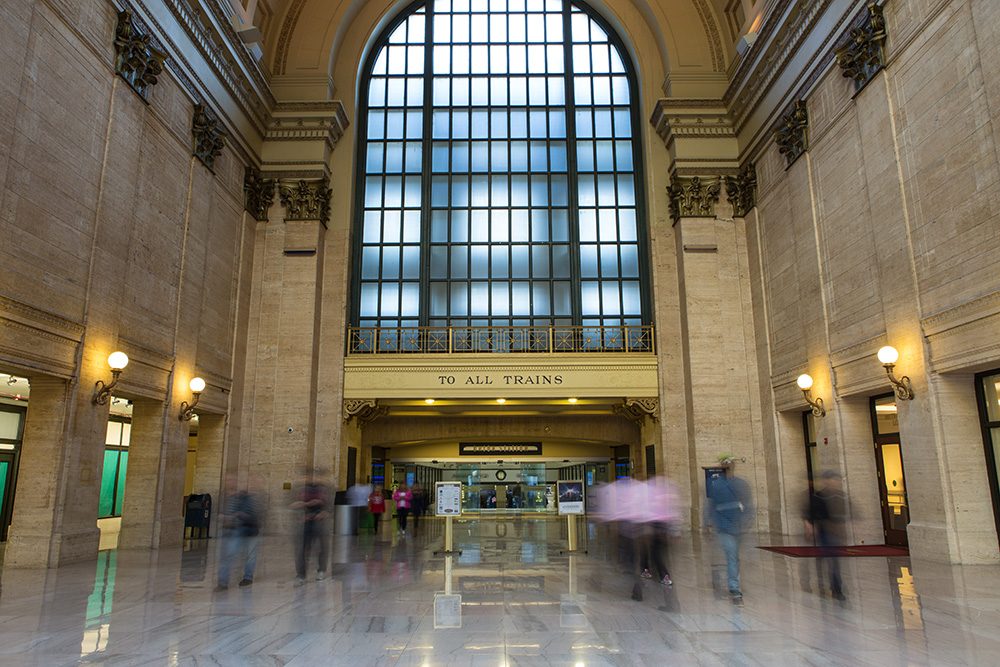 Centered in America's heartland, Chicago Union Station is the Midwestern corridor gateway to a national network of trains connecting the continental United States.
Amtrak WiFi
Metropolitan Lounge
More than 30 restaurants
Many more accommodations as you wait to board your train
Easy connection to the Metra system
5-minute walk to Skywalk Chicago at Willis Tower & Chicago Riverwalk
Amtrak's Midwestern hub connects passengers not only to major cities in Illinois and to the surrounding states of Indiana, Michigan, Missouri and Wisconsin, but from coast-to-coast as well.
Take a look at the full list of Amtrak's Midwest train routes for the essential details on amenities, accommodations, menus, local guides, route highlights and much more.
Ready to go right now? Buy train tickets to Chicago on Amtrak.com, from the Amtrak app, at an Amtrak kiosk or from a ticketing agent at any Amtrak station.
Popular Train Trips to Chicago
Ann Arbor, MI to Chicago, IL
Detroit, MI to Chicago, IL
Milwaukee, WI to Chicago, IL
Grand Rapids, MI to Chicago, IL
Minneapolis, MN to Chicago, IL
St. Louis, MO to Chicago, IL
Indianapolis, IN to Chicago, IL
New York to Chicago, IL
Kansas City, MO to Chicago, IL
Plan Your Trip to Chicago and Save with These Discounts and Deals
Amtrak ticket deals can range from saving on business and coach class seats for booking early, buy one get one free ticket sales on select routes, discounted rates for traveling to major occasions around the country like Pride celebrations or sporting events, and so many more great deals that come and go throughout the year. Even without deals and promotions, an Amtrak train to Chicago can cost as little as $7 (e.g. from Hammond-Whiting, IN).
For the lowest prices Amtrak has to offer:
Looking to catch the latest Broadway shows in Chicago? If you're an Amtrak Guest Rewards member, you can earn thousands of points by planning your Broadway trip through our car rental and hotel partners on trips.amtrak.com. With over 300,000 hotels and over 29,000 car rental locations to choose from in the network, Amtrak Guest Rewards simplifies the travel planning process without the hassle of scouring the web to plot out the details of your trip.
For the ultimate way to save time and money on your trip planning, Amtrak Vacations has package deals for vacation getaways including a 3-day Chicago Getaway starting at $359.
Take the Train to Chicago on Amtrak and Experience a Better Way to Travel
When it comes to having a great trip, the travel experience can make a world of difference. That's why Amtrak is committed to being more than just your mode of transportation from point A to point B. Our unique offerings are dedicated to giving you a better way to travel.
Experience
the sights and sounds and sounds of America and enjoy sleeping and eating at your leisure.
Explore
America's historic landmarks and national parks and step right onto the center of major cities.
Enjoy
wide seats, legroom, WiFi, power outlets and space for everything you can't leave home without.
Save
time, money and the environment with emissions standards that just keep on getting better.
SIGN IN OR CREATE AN ACCOUNT
Passwords are case sensitive, should be at least 10 characters long and should include 1 uppercase and 1 lowercase alpha character, 1 number and 1 special character. ! " # $ % & ' ( ) * + , - . / : ; < = > ? @ [ \ ] ^ _ ` < | > ~

Enter the email address or member number associated with your account. We will send password reset instructions.

An email with password reset instructions is on the way.

That answer wasn't correct either. We've sent you an email with instructions to reset your password instead.

Continue as Signed In Sign Out