Trails & Rails Program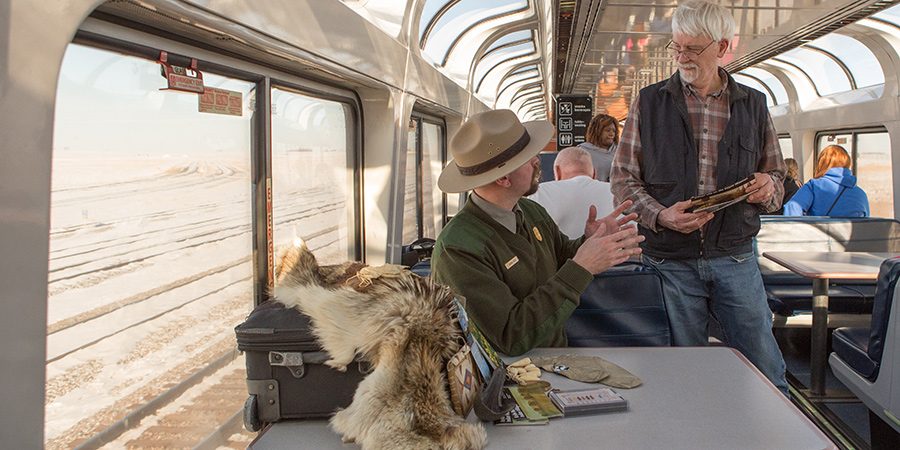 Enrich your travel experience and learn about our nation's natural and cultural sights along your route with a National Park Service guide.
Enrich your travel experience and learn about our nation's natural and cultural sights along your route with a National Park Service guide.
Onboard Heritage Appreciation
Enjoy your time traveling across the country with National Park Service volunteer guides and their traveling show-and-tell programs as they explain regional historic and natural resources related to your journey.
Whether visiting iconic natural treasures like the mighty Mississippi River valley, historic landmarks like the Roosevelt mansion in Hyde Park or cultural attractions like New Orleans Jazz National Park, you can connect to public lands and engage in a better understanding of the need to preserve and protect these special natural and cultural resources.
Since the beginning of the 20th century, railroads have played an active role in developing America's national parks and we are proud to be a part of this partnership that provides a fuel efficient and environmentally friendly way to visit public lands.
Learn more about the Trails & Rails program and see what routes have programs onboard.
Travel Through History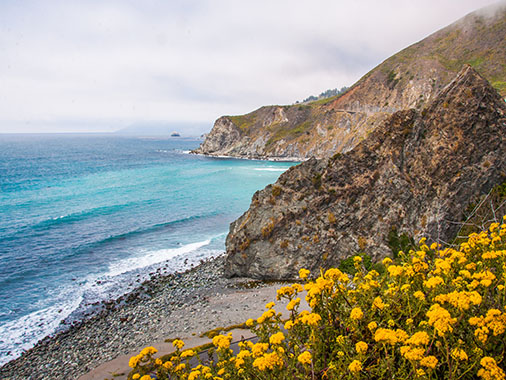 Southern California
Coast Starlight
Santa Barbara, CA – San Luis Obispo, CA
Our route between Santa Barbara and San Luis Obispo makes its way along the California coast, following the route taken by the first immigrant families traveling from New Spain to Alta California. Our guides tell the story of the Juan Bautista De Anza Expedition, railroading, and the natural history of this unique part of the California coast.
The natural beauty of California is on display, from majestic mountains sweeping down to coastal bluffs, inland valleys to beach communities. Passengers on this section of the Coast Starlight are treated to a part of the California coast inaccessible by public roads, including a behind the scenes view of Vandenberg Space Force Base.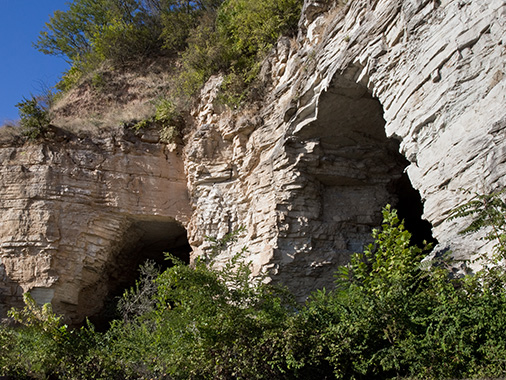 Midwest Corridor
Empire Builder
Minneapolis, MN – Columbus, WI
Learn about the rich natural and cultural history of the only national park focused on the Mississippi River: Mississippi National River & Recreation Area. Investigate how the geology of the river has influenced human history including native history and colonialist history.
Also learn about how human impact has shaped the ecology of the river and opportunities for recreation on it.
Midwest Corridor
Lincoln Service
St. Louis, MO – Springfield, IL
Travel between St. Louis and Springfield, Illinois, on Trains 302 & 301 and you will see the economic power of manufacturing along the Mississippi River and the agricultural power of the Illinois prairies.
Trails & Rails guides have a wealth of heritage stories to share, such as prehistoric mound builders at Cahokia Mounds, the winter encampment of Lewis and Clark, coal miners and their Sears catalog kit houses, and Abraham Lincoln's contributions to the United States. All Aboard.
Southern Corridor
Crescent
Atlanta, GA – Birmingham, AL
Amtrak's Crescent corridor through the South journeys from the southern Appalachian foothills, through the ancestral homelands of the Cherokee, Creek and Choctaw, down through the coastal plains to the wetlands of the Mississippi delta and Gulf coast bayous.
The route traverses one of the most diverse US environments and also revisits the cradle of America's civil rights revolution. Because of that diverse environment and deep history it is a corridor with a rich and interconnected cultural heritage and impact. Our guides help interpret that past and point to the iconic places of the route's stories.
Train
Primary Season
Route Segment To/From
Participating National Park
Adirondack
Trains 68/69
Weekends, June - November
New York City - Albany, NY -Rensselaer, NY
Roosevelt-Vanderbilt National Historical Sites & National Parks of New York Harbor
Saratoga Springs, NY - Westport, NY
Saratoga National Historical Park
Capitol Limited
Trains 30/29

Saturdays, May - August

Cumberland, MD - Washington DC
Chesapeake & Ohio Canal National Historic Park
City of New Orleans
Trains 59/58

Wednesday - Saturday, June - November

Jackson, MS - Hammond, LA
Medgar & Myrlie Evers Home National Monument
Coast Starlight
Trains 11/14

Wednesday - Sunday, April - September

Seattle, WA - Portland, OR
Klondike Gold Rush National Historical Park



Weekends, May - September

San Jose, CA - Paso Robles, CA

Juan Bautista de Anza National Historic Trail


Coast Starlight
Trains 14/11

Thursday - Sunday, March - September

Santa Barbara, CA - San Luis Obispo, CA
Crescent
Trains 19/20
May - September
Atlanta, GA /Anniston, AL - Birmingham, AL/New Orleans, LA
Martin Luther King, Jr. National Historical Site
Empire Builder
Trains 8/28 & 7/27

Monday, Tuesday, Wednesday, May - August

Saint Paul, MN - Columbus, WI
Mississippi National River and Recreation Area
Empire Builder
Trains 7/8

Departs Seattle Sundays & Thursdays,

Wenatchee Mondays & Fridays,

April - September

Seattle, WA - Wenatchee, WA
Klondike Gold Rush National Historical Park
Empire Service
Trains 281/284

Weekends, June - November

New York City - Albany, NY -Rensselaer, NY
Roosevelt-Vanderbilt National Historical Sites & National Parks of New York Harbor
Heartland Flyer
Trains 821/822

Friday & Saturday, May - September

Oklahoma City, OK - Fort Worth - TX
Oklahoma City National Memorial
Lincoln Service
Train 302

Weekends, June - August

Springfield, IL - Chicago, IL
Lincoln Home National Historic Site
Lincoln Service
Trains 302/201

Daily, May - September

Friday - Sunday, September - October

St. Louis, MO - Springfield IL
Gateway Arch National Park
Missouri River Runner
Trains 311/318

Daily, May - September

Friday – Sunday, September - October

St. Louis, MO - Jefferson City, MO
Gateway Arch National Park
Northeast Regional
Trains 164/87

Saturday - Sunday, April - November

Washington DC - New York City
National Mall and Memorial Parks
Texas Eagle
Trains 21/421

Weekends, June - August

Springfield, IL - Chicago, IL
Lincoln Home National Historic Site
SIGN IN OR CREATE AN ACCOUNT
Passwords are case sensitive, should be at least 10 characters long and should include 1 uppercase and 1 lowercase alpha character, 1 number and 1 special character. ! " # $ % & ' ( ) * + , - . / : ; < = > ? @ [ \ ] ^ _ ` < | > ~

Enter the email address or member number associated with your account. We will send password reset instructions.

An email with password reset instructions is on the way.

That answer wasn't correct either. We've sent you an email with instructions to reset your password instead.

Continue as Signed In Sign Out