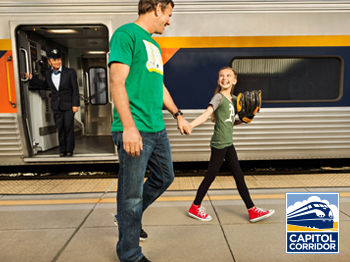 Save 25% on Travel to Oakland Athletics Home Games
Save 25% on Travel to Oakland Athletics Home Games
Save 25% on Travel to Oakland Athletics Home Games
Save 25% on Travel to Oakland Athletics Home Games
Ride the Capitol Corridor to an Oakland A's home game at Oakland Alameda Coliseum, and you'll save 25% on fares. Just book and travel March 1 - November 1, 2017, and you're in for savings and a great time. Since the Capitol Corridor stops right outside the stadium, you won't have to deal with the hassles of parking or traffic. You'll be able to focus on the game and having a good time.
Plus, kids aged 2 - 12 ride at half the regular adult fare, so bring the family and you'll save even more. And with plenty of legroom and comfortable seats onboard, you don't have to wait for the 7th inning to stretch out. It's all the makings of great savings and a terrific day.
Valid for sale and travel through November 1, 2017
Valid for 25% off the regular full adult rail fare. Valid for sale March 1 - November 1, 2017. Valid for travel March 1 - November 1, 2017. Blackout dates:  April 13, 2017,  May 26 and 29, 2017,  September 1 and 4, 2017. Valid for travel on the Capitol Corridor and associated Thruways; not valid on the 7000-8999 Thruway series. Valid for travel to Oakland, CA (Oakland Coliseum station stop only) and return.Up to two (2) children (ages 2 - 12) may accompany each adult at half the regular full adult rail fare. Children and infants must be accompanied by an adult 18 years or older. Valid for Coach seats.Seating is limited, seats may not be available on all days.Fares are subject to availability.In addition to the discount restrictions this offer is also subject to restrictions, blackouts and refund rules that apply to the type of fare purchased. Fares, routes and schedules are subject to change without notice. Once travel has begun, no changes to the itinerary are permitted.Not combinable with any other discount offer. Other restrictions may apply.