Amtrak Alerts Information and updates affecting travel
December 3, 2020, 3:00 pm ET
Modified Service and Other Adjustments
Pacific Surfliner trains are now following a temporarily reduced schedule based on current ridership needs. Visit PacificSurfliner.com to read about other adjustments to the service, such as the reduction of food and beverage sales in the onboard Market Café, modified hours at some staffed stations and the implementation of enhanced safety measures.
Starting at the southern end of the route, you'll find an almost endless list of attractions in the sun-splashed city of San Diego. Take in a thrilling aquatic show at SeaWorld®. Stroll by the many shops and restaurants of the Gaslamp Quarter. Or take a sandy step back in time at the grand old Victorian beachfront Hotel del Coronado.
Heading north, the route takes you directly through Anaheim, making the Pacific Surfliner your ticket to a worry-free trip to Disneyland® and Disney California Adventure® Park.
Of course, there's always plenty of reason to stop in Los Angeles. The home of the stars is also home to Universal Studios HollywoodSM, the stunning Pacific Coast Highway and the people-watching wonder that is the Venice Boardwalk. No matter what you do, just remember to grab your sunglasses and watch for your favorite stars. After passing through the popular resort town of Santa Barbara, the Pacific Surfliner route's northernmost destination is the charming old city of San Luis Obispo. Founded in 1772, the city boasts numerous historic inns and theaters, and even a rare commercial building designed by Frank Lloyd Wright. Whether you come to soak in the ambiance or some of the delicious wines produced in nearby Edna Valley, you'll find that San Luis Obispo is a perfect place to end your journey.
Upgrade to Pacific Business Class
Enjoy unique amenities when you upgrade such as a 25% point bonus for Amtrak Guest Rewards members; seating in a dedicated car with service attendant; additional leg room; a complimentary glass of wine, non-alcoholic beverages, and light snacks; access to the Metropolitan Lounge in Los Angeles; priority boarding in San Diego; and a fully refundable ticket if canceled prior to departure.
Frequent Trains with Easy Connections
The Pacific Surfliner route offers 13 daily round-trip services between San Diego and Los Angeles, and five between Santa Barbara and San Diego. Many stations are within walking distance to top attractions. Plus, a number of transit providers offer free bus connections to Pacific Surfliner passengers, so you can visit even more destinations.
For more detailed information on the Pacific Surfliner, including destinations and special promotions, visit www.PacificSurfliner.com. Follow @pacsurfliners for Pacific Surfliner updates on Twitter.

Features & Amenities
When you travel on Pacific Surfliner, make sure each of your carry-on bags are smaller than 28 x 22 x 11 inches.
Amenities vary by train.
Amtrak Thruway Service offers connecting transportation to destinations such as Bakersfield and Long Beach from the Pacific Surfliner. Amtrak takes care of booking and ticketing for you to see and do more on your trip.

Pacific Surfliner Market Café Menu
Downloadable menus are updated regularly, but menu items and prices are subject to change and may be different from what is available onboard.
Route Highlights
Santa Barbara, California
Awash in red tile roofs and white stucco walls, Santa Barbara celebrates California's Spanish heritage and invites you to sample its sophisticated boutiques, world-class wineries and magnificent waterfront dining.
Hop aboard a ferry to Channel Islands National Park for unforgettable hiking, diving and wildlife viewing, or if you prefer your nature to be more sculpted, play a few rounds at some of the most scenic golf courses in America.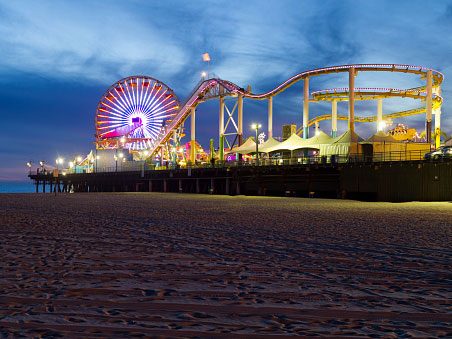 Route Highlights
What trip to California would be complete without a stop in Tinseltown? Shop with the stars along Rodeo Drive or head to the beaches of Malibu for some serious people watching.
For family fun, head out to the historic Santa Monica Pier or the mecca of amusement, Disneyland. If culture is what you're after, don't miss the world-renowned collections of the J. Paul Getty Museum.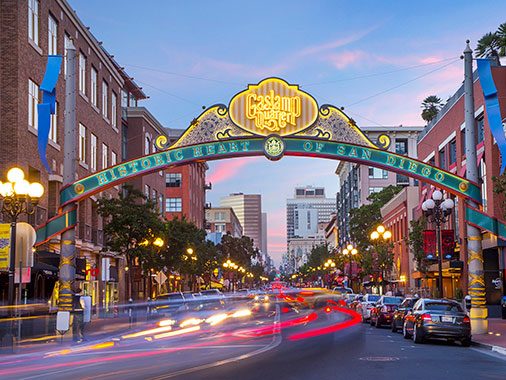 Route Highlights
San Diego, California
Past and present meet in San Diego, where Old Town marks the first Spanish settlement on the West Coast and the U.S.S. Midway commemorates the military's contributions to our modern security.
From its famous zoo and museums of Balboa Park to waterfront fun on the Embarcadero and beaches of La Jolla, the San Diego area is the perfect place to start or end your SoCal adventure.
SIGN IN OR CREATE AN ACCOUNT
Passwords are case sensitive, should be at least 10 characters long and should include 1 uppercase and 1 lowercase alpha character, 1 number and 1 special character. ! " # $ % & ' ( ) * + , - . / : ; < = > ? @ [ \ ] ^ _ ` < | > ~

Enter the email address or member number associated with your account. We will send password reset instructions.

An email with password reset instructions is on the way.

That answer wasn't correct either. We've sent you an email with instructions to reset your password instead.

Continue as Signed In Sign Out