Business Class on the Downeaster
Enjoy an enhanced travel experience in Business Class on the Downeaster and you'll have access to exclusive amenities such as a fully refundable ticket if canceled prior to departure, 25% point bonus for Amtrak Guest Rewards members, leather seating with footrests and complimentary non-alcoholic beverages.
Downeaster trains arrive and depart from Boston North Station
All other Amtrak trains service South and Back Bay Stations. Transfers to/from North Station are not provided by Amtrak. North and South Stations are about a mile apart, and taxis are available. North and Back Bay Stations are about a mile-and-a-half apart. In addition to taxis, the MBTA Orange Line subway provides frequent direct service between the stations.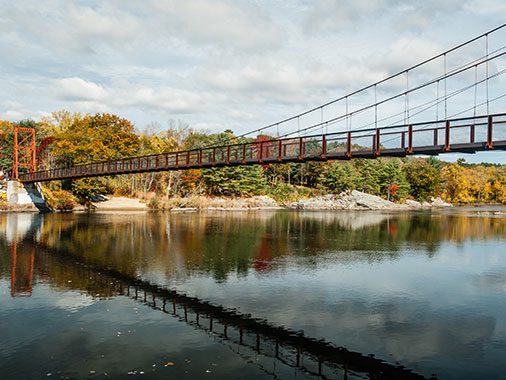 Route Highlights
Brunswick, Maine
Immerse yourself in the charms of New England Americana. Grab some treats from the year-round farmers' market and set off on bike paths through towering pine forests and meandering trails along the blue waters of the Androscoggin River.
Enjoy charming boutiques, bakeries and bistros. Tour the beautiful and historic Bowdoin College campus, home to one of the first art museums in America.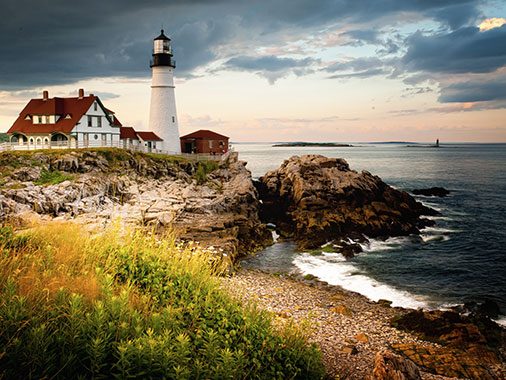 Route Highlights
Portland, Maine
Follow cobblestone streets to the city's thriving waterfront where lobstermen unload their daily catch and the ferries of the Casco Bay Islands silently glide in and out. Visit boutiques and bars, farmers' markets and fish markets.
Climb the Portland Observatory for panoramic views of the harbor or visit the Maine-inspired masterpieces by Winslow Homer at the Portland Museum of Art.