Why Acela?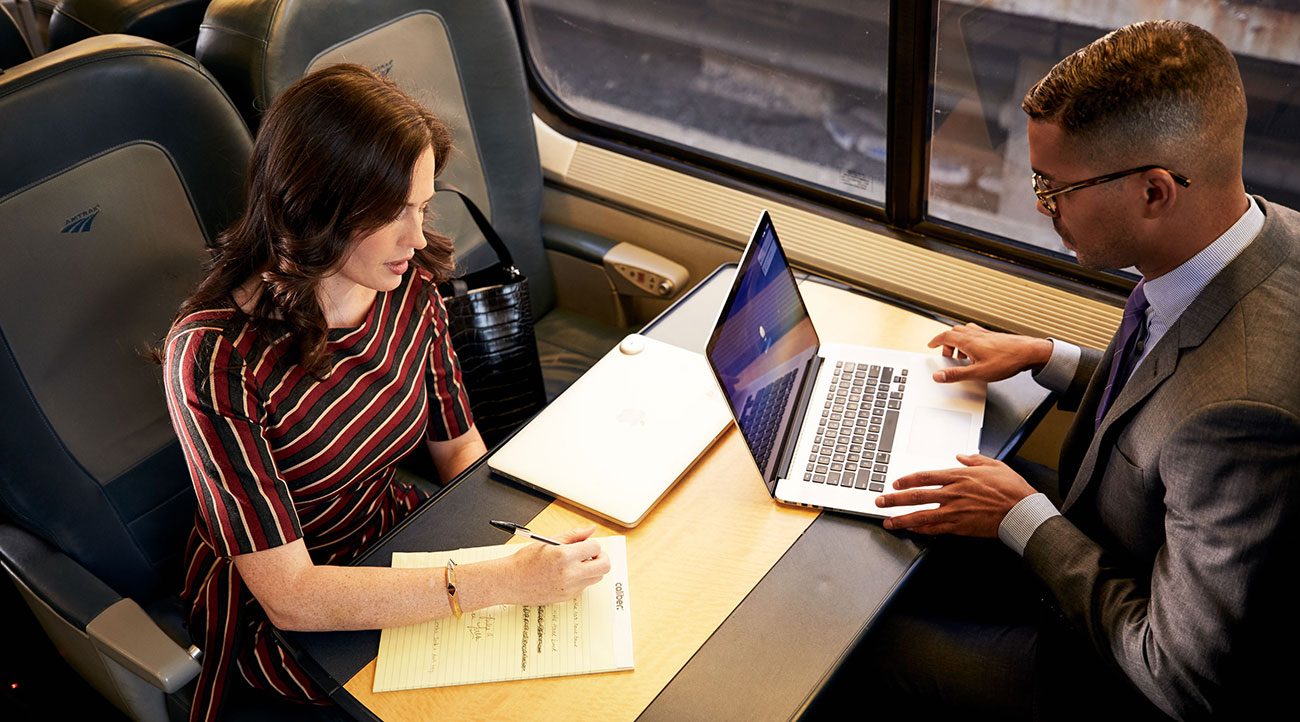 Get Comfortable. Be Productive. Save Time. Go Green.
How would you like to get to your next business meeting or family reunion? Would you like to avoid the hassle of finding a taxi or driving (and parking) at the airport, fighting traffic along the way only to find yourself running to your plane where a small, cramped seat awaits you?
Or would you prefer to walk from your office or the subway to the Amtrak station, where you can board a train with wide reclining seats equipped with power outlets? Our Acela trains offer frequent service to destinations throughout the Northeast Corridor, with first- and business-class seating options and free WiFi. Stretch your legs with a stroll to the Café Acela or, if you're traveling in First Class, enjoy at-seat dining service. All Acela trains now offer seat selection in Business and First Class, offering more peace of mind knowing your seat is waiting for you.
We realize that you have many options when traveling in the Northeast, but the answer should be clear: Acela is the smarter and more efficient way to go, saving you time, money and hassles when traveling from DC to New York and Boston. You can also travel with environmental sustainability in mind, since all-electric trains like Acela produce significantly less CO2e emissions compared to flying or driving.
Acela vs. Airline Shuttle
Acela
Airline Shuttle
Seat width (average)

23"
18"
Seat pitch (average)

42"
31"
AC electrical outlets

Adjacent to each seat
Limited
Available conference tables

Yes
No
Travel convenience
Downtown-to-downtown
service with no-hassle boarding
Arrive outside of city center
with longer check-in time
Carry-on luggage
2 carry-on bags and
1 personal item included
Carry-ons restricted
Sustainability
Up to 72% less CO2e emissions
than flying
High environmental impact
Efficient and Convenient
Arrive downtown, not out of town. Acela serves conveniently-located stations in city centers, including Boston - South Station, Moynihan Train Hall at New York - Penn Station, and Washington - Union Station. These stations all feature easy access to public transportation, commuter rail, taxi and rideshare.
Productivity and Comfort
Plug in or tune out — the choice is yours. Acela trains offer free WiFi and wide, assigned seats equipped with power outlets and tabletops, so you can travel in comfort while you catch up on work or kick back and enjoy the ride.
Environmental Impact & Sustainability
In the Northeast Corridor, trains like Acela are 100% electric, and approximately one third of the energy used is generated by carbon-free sources. Traveling on all-electric trains like Acela produces up to 72 percent less CO2e emissions compared to airplanes, and 83 percent less CO2e emissions than a personal vehicle.

Café Acela is open to all our Acela passengers and offers bistro menu selections freshly prepared to your liking in minutes. Acela First Class passengers enjoy our rotating at-seat menu service and cuisine typically found in fine dining restaurants.

Arrive at your location relaxed and revived by traveling in Acela First Class. Enjoy spacious seating with at-seat service in a quiet, elegant atmosphere, as well as complimentary meals, priority boarding, beverages, hot towels and newspapers. You'll also enjoy privileged access to station lounges in Boston - South Station, Moynihan Train Hall at New York - Penn Station, Philadelphia - William H Gray III 30th Street Station and Washington - Union Station.
SIGN IN OR CREATE AN ACCOUNT
Passwords are case sensitive, should be at least 10 characters long and should include 1 uppercase and 1 lowercase alpha character, 1 number and 1 special character. ! " # $ % & ' ( ) * + , - . / : ; < = > ? @ [ \ ] ^ _ ` < | > ~

Enter the email address or member number associated with your account. We will send password reset instructions.

An email with password reset instructions is on the way.

That answer wasn't correct either. We've sent you an email with instructions to reset your password instead.

Continue as Signed In Sign Out