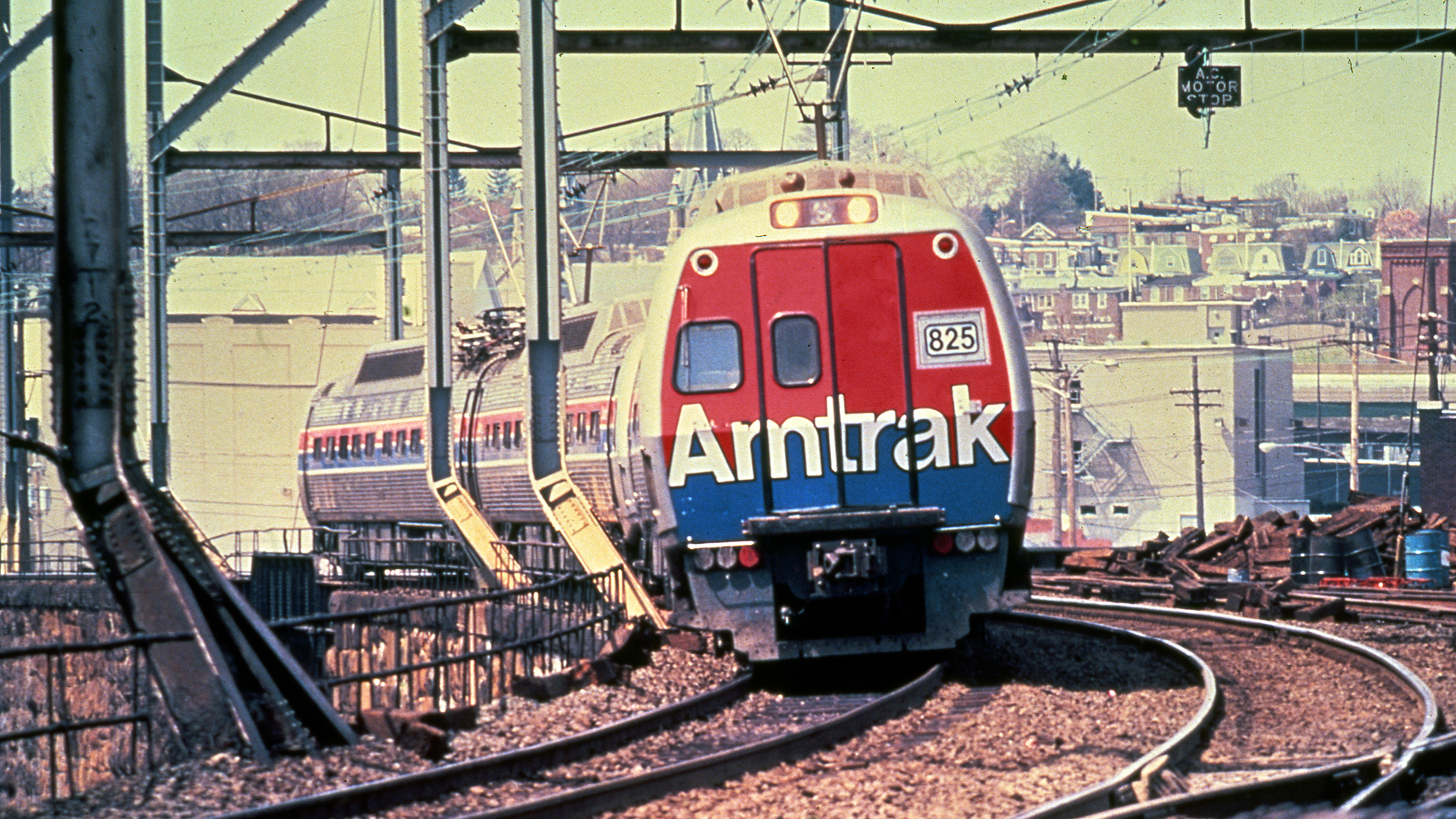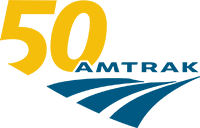 How well do you know Amtrak? Take a look at these facts and figures to test your knowledge about our history, stations and services.
Amtrak History

A few fun facts from our 50-year history.
Connecting People

How Amtrak brings people together — by the numbers.
Our Stations & Services

Trivia that highlights our unique stations.
Amtrak History
Who was the first President and Chairman of Amtrak?
Show Answer
When Amtrak began operations on May 1, 1971, how many states did it serve?
Show Answer
43 (+ the District of Columbia)
Name two of the seven states left out of the initial Amtrak network that eventually gained service.
Show Answer
Maine, New Hampshire, Vermont and Arkansas (Wyoming would later lose service. South Dakota, Hawaii and Alaska never had service)
In 1975, these new cars, based on the popular Metroliners, began entering service. They are still widely used across the national system. Name the type of car.
Show Answer
What famous rail car company constructed the Amfleet I cars?
Show Answer
In what year did Amtrak purchase the Beech Grove heavy maintenance facility from Penn Central?
Show Answer
In 1976, Amtrak purchased this major asset, which included trackage, bridges, stations, communication and signal systems, etc.
Show Answer
Southern Railway was one of a handful of railroads that did not turn over its passenger operations to Amtrak in 1971. What's the name of the Southern Railway service that Amtrak finally took over in 1979?
Show Answer
Southern Crescent (renamed by Amtrak as the Crescent)
"Le Pub," described in Amtrak promotional material as a "dimly-lit, romantic cocktail lounge car… where you can gather with new friends and old acquaintances" was featured on what train that was popular with skiers?
Show Answer
Montrealer (replaced by Vermonter)
Amtrak took over this unique passenger train — considered one of the longest in the world—in 1983, two years after its initial private operator went out of business.
Show Answer
Explore the Archives: Learn more about Amtrak and its history of serving and linking communities across America. Go to history.amtrak.com
As Amtrak contemplated high-speed rail in the Northeast, this Swedish train was tested on the NEC and went on a national tour in 1992-1993.
Show Answer
Amtrak offered no international service until 1972 when Congress authorized cross-border services. Name two of the three original endpoints named by the congressional legislation.
Show Answer
Montreal and Vancouver, Canada; and Nuevo Laredo, Mexico.
Amtrak joined the internet age with the launch of Amtrak.com in what year?
Show Answer
1995 (the site offered information about Amtrak services, but not online booking capabilities).
Which of the following was never used as a slogan or tagline for an Amtrak promotional campaign?
Show Answer
"America's Getting Into Training"; "See America at See Level"; "Training to the Future" (correct answer); "Making 500 Destinations a Far Better Ride"
When ARROW launched in 1982, it replaced what system?
Show Answer
ARTS (Amtrak Automated Reservation and Ticketing System)
Following a 20-year absence, Amtrak reintroduced intercity passenger rail service to this state in 1999.
Show Answer
Oklahoma (Heartland Flyer)
In 2001, Amtrak introduced the traveling public to this friendly personality, who helps plan trips and even made an appearance on Saturday Night Live.
Show Answer
In 2011, Amtrak introduced eTicketing on what two routes?
Show Answer
Downeaster service and the Auto Train
Name the longest-serving Amtrak President and CEO
Show Answer
W. Graham Claytor, Jr. (served 1982-1993)
When it was created, the National Railroad Passenger Corporation was originally known by what name?
Show Answer
Connecting People

On an average day, Amtrak carries 89,100 customers on 300 intercity trains.

Amtrak's nationwide rail network serves more than 500 destinations in 46 states and the nation's capital; approximately 70 percent of the miles traveled by Amtrak trains are on tracks owned by other railroads (primarily Class I freight railroads). 

Amtrak's Northeast Corridor, which connects Washington, New York City and Boston, accommodates an average 2,200 Amtrak, commuter and freight trains every day – making it the busiest rail line in North America.

Amtrak partners with 17 states – through 20 agencies – to operate 28 short-distance routes. California is the largest partner, supporting about 60 trains each day. 

Amtrak trains serve 40 percent of America's rural population, where many communities lack access to bus or air service. 
Getting to Know Our Stations & Services

The Acela is the fastest train in the Western Hemisphere. 

The Auto Train (Lorton, VA - Sanford, FL) lets passengers travel with their motor vehicles. Counting the locomotives, passenger cars and auto carrier cars, the Auto Train is one of the longest passenger trains in the world. 

The Empire Builder (Chicago - Seattle/Portland) serves the most communities of any Amtrak service, making 45 stops in eight states. 

Get off the Pacific Surfliner at San Clemente Pier in Southern California and you can walk right onto the beach and dive into the ocean; from Denver - Union Station, the seasonal Amtrak Winter Park Express drops you at the base of a popular ski resort.  

About half of the more than 400 national park system units, from Glacier National Park in Montana to Independence Hall in Philadelphia, are easily accessible from Amtrak stations. 

The oldest station building served by Amtrak is in Lewistown, PA, along the route of the Pennsylvanian. Opened in 1849 as a freight house, it was converted to passenger use after the Civil War.  

Marks, MS, is the newest stop added to the Amtrak map. Served by the City of New Orleans, it's located in the northern Mississippi Delta, which has a rich heritage tied to the Civil Rights Movement and the development of country, rock and blues music.

More than 10 million Amtrak customers pass through New York - Penn Station each year, making it the busiest in the Amtrak network. An average 650,000 Amtrak, commuter rail, subway and bus customers pass through the station every day. 

Three stations are listed as National Historic Landmarks by the National Park Service: Harrisburg, PA (1887), Richmond, VA - Main Street Station (1901) and Cincinnati, OH (1933). 

The most unusual station in the Amtrak network is probably San Juan Capistrano, CA. The waiting room and ticketing desk are located in refurbished box cars.  
Washington - Union Station was modeled after the ancient Roman baths of Diocletian and Caracalla?


Seattle - King Street Station's soaring tower is modeled after the Campanile di San Marco on the Piazza San Marco in Venice. 

Idaho has only one station in Sandpoint. 

The Texarkana station is technically located in both Texas and Arkansas since it straddles the state line. 

Over the summer, Raton, NM, and Prince, WV, welcome thousands of Boy Scouts on their way to high-adventure camps.

Lots of stations are starting to adopt sustainable design elements. The Saco - Biddeford, ME, station is considered one of our first "green" stations, as it is powered by a wind turbine and heated and cooled by a geothermal energy system. Seattle - King Street Station also employs geothermal wells, and photovoltaic panels. Green roofs partially planted in vegetation absorb and filter rainwater and reduce heat gain at the Normal, IL, and Raleigh, NC stations. 

St. Paul - Union Depot is home to rooftop beehives that help support the endangered honeybee community. Their honey is sold and incorporated into gourmet treats by a local chocolatier.

Thurmond, WV, is the smallest community – by population – served by Amtrak. According to the 2010 Census, it only had five residents.

The East Glacier and Browning, MT, stations complement one another: East Glacier is open during the warmer months to accommodate visitors to Glacier National Park; at the end of the summer, it closes and the nearby Browning stop opens for the winter. 

Hermann, MO, is known for its rich German cultural heritage, including popular Maifest, Wurstfest and Oktoberfest celebrations that draw visitors from across the Midwest.   
SIGN IN OR CREATE AN ACCOUNT
Passwords are case sensitive, should be at least 10 characters long and should include 1 uppercase and 1 lowercase alpha character, 1 number and 1 special character. ! " # $ % & ' ( ) * + , - . / : ; < = > ? @ [ \ ] ^ _ ` < | > ~

Enter the email address or member number associated with your account. We will send password reset instructions.

An email with password reset instructions is on the way.

That answer wasn't correct either. We've sent you an email with instructions to reset your password instead.

Continue as Signed In Sign Out