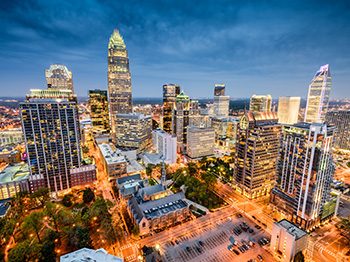 Save 20% on Select Routes on Your Next Trip to the South
Save 20% on Select Routes on Your Next Trip to the South
Save 20% on Select Routes on Your Next Trip to the South
Save 20% on Select Routes on Your Next Trip to the South
Whether you're heading to the game, concert, festival or some other celebration in the Southeast, you can get there for less with 20% off fares on select Amtrak routes throughout the region.
The Southeastern states offer something for everyone and now you can save on routes to the southern states including the Palmetto, Piedmont, Crescent, Silver Meteor, Silver Star and Carolinian.
Nowhere else will you find such a mixed bag of attractions and culture. From the French Quarter and lively jazz clubs of New Orleans to the cobblestone streets and elegant mansions of stately Charleston to the Great Smoky Mountains, America's most-visited national park.
Vacationing is good for the soul. And nothing lets you rest, relax, recharge, and refresh like the uniquely enjoyable experience of travel aboard America's Railroad.
Valid for Sale Through December 25, 2017
Valid for Travel Through December 28, 2017
Exclusively available at Amtrak.com via select sponsor websites.Valid for 20% off the regular full adult rail fare. Valid for sale January 1 - December 25, 2017. Valid for travel January 3 - December 28, 2017.Blackout dates: February 17 and 20, 2017, April 13 - 14 and 17, 2017, May 26 and 29, 2017, September 1 and 4, 2017, October 9, 2017 - November 21 - 22 and 25 - 27, 2017, December 22 - 24, 2017. Advance reservations are required a minimum of three (3) days prior to travel. Valid for travel on the following trains only: Palmetto, Piedmont, Crescent, Silver Meteor, Silver Star, and Carolinian. Up to two (2) children (ages 2 - 12) may accompany each adult at half the regular full adult rail fare. Children and infants must travel with an adult who is at least 18 years or older. Valid for Coach seats; no upgrades permitted. Seating is limited; seats may not be available on all trains at all times.Fares are subject to availability. Not combinable with any other discount offer.In addition to the discount restrictions, this offer is also subject to any restrictions, blackouts and refund rules that apply to the type of fare purchased.Fares, routes and schedules are subject to change without notice. Once travel has begun, no changes to the itinerary are permitted. Other restrictions may apply.