Government Rail Travel Discount
Federal Government Business Travel Just Got Easier With a Better Deal — Nationwide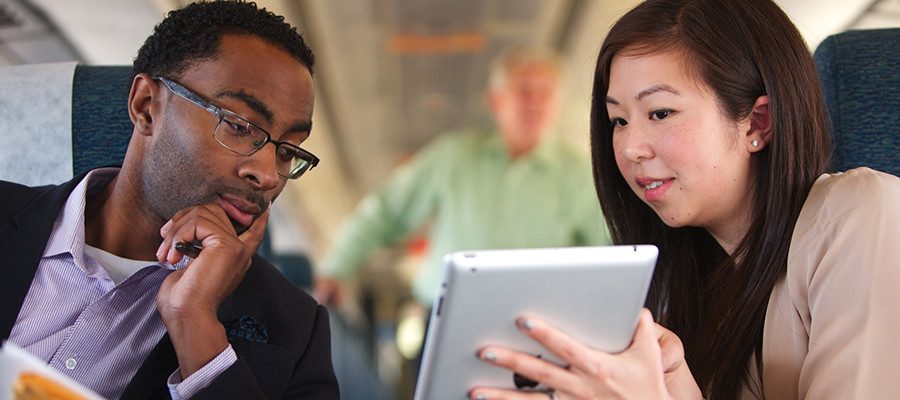 Amtrak offers federal government employees discounted fares for business travel within the Northeast Corridor as well as discounts for business travel on Coach fares nationwide. Federal government discounts must be booked through a federal employees travel management company or corporate booking tool and may not be booked on Amtrak.com. For more information, contact AmtrakGovernmentTravel@Amtrak.com.
In the Northeast Corridor
You can travel between 70+ stations using the Northeast Regional and Keystone Service. Amtrak will also continue to offer discounted federal government fares on select Acela Express trains in the Northeast Corridor.
No More Refund Worries
We've removed the refund rules from our federal government fares, so your reservation (when booked through approved channels) is now fully refundable if cancelled prior to departure.
Book your business travel via your self-serve booking tool, or your TMC.
When your reservation contains a federal government fare, it's free of our normal refund rules. Your trip is 100% refundable when you travel with a federal government fare and you cancel prior to departure.
If needed, you can cancel your reservation through Amtrak.com, our mobile apps, by calling us, or with an Amtrak Station Agent. Cancellations made prior to departure will be refunded 100%.
No-shows/no-cancellation will be forfeited.
Government Business Travel Just Got Bigger
Scheduled Program Enhancements and Expansion
Northeast Corridor Regional Service — select city pairs* will see a bigger discount:
New York, NY (NYP) - Washington, DC (WAS)
Philadelphia, PA (PHL) - Washington, DC (WAS)
Newark, NJ (NWK) - Washington, DC (WAS)
Baltimore - Thurgood Marshall Airport, MD (BWI) - New York, NY (NYP)
Metropark-Iselin, NJ (MET) - Washington, DC (WAS)
Washington, DC (WAS) - Wilmington, DE (WIL)
Trenton, NJ (TRE) - Washington, DC (WAS)
New York, NY (NYP) - Philadelphia, PA (PHL)
Baltimore - Penn Station, MD (BAL) - New York (NYP)
New Carrollton, MD (NCR) - New York (NYP)
New York, NY (NYP) - North Philadelphia, PA (PHN)
New York, NY (NYP) - Newark, NJ (NWK)
New York, NY (NYP) - Metropark-Iselin, NJ (MET)
New York, NY (NYP) - Trenton, NJ (TRE)
New York, NY (NYP) - Philadelphia, PA (PHL)
New York, NY (NYP) - Wilmington, DE (WIL)
*Pricing and city pairs included in this program are subject to change.
*Other Northeast Corridor city pairs will remain at the current discount levels.
Nationwide Availability
Amtrak Federal Discount Program will extend to our National Service and most State Supported services. Federal government travelers will find discounted fares available across the country on coach fares.
Business Class, Sleepers, or other upgrades are not included as part of the Amtrak Federal Discount Program but are available to book as upgrades, refund rules for those upgrades will apply.
No change to Acela Express city pairs or current Acela program.
The Canadian Maple Leaf service offers the Federal Discount through Niagara Falls, NY.
Increased discounts are offered on all dedicated Amtrak Thruway bus services. Dedicated means Thruway services contracted by or operated by Amtrak. Where non-dedicated Thruway busses are made available (i.e. Greyhound), the discount will not apply.
Some agencies allow booking fares that are not included in the Amtrak Federal Discount Program. If selecting a non-government fare, the refund rules and penalties for that selected fare will apply, i.e., Saver Fares.
To obtain federal discount fares, Amtrak reservations must be made through an approved booking channel: either Travel Management Company, CWT E2 Solution or ConcurGov. Cancellations can be made to a reservation by any Amtrak touchpoint.
Passengers must cancel trips prior to departure as no-shows will result in forfeiture. When you select a fare included in the Amtrak Federal Discount Program, you are eligible to receive a full refund up to time of departure in the event you need to cancel.
Benefits to Amtrak Rail Travel
Get to Your Destination Faster
Amtrak trains offer city center to city center service.
Accomplish More
Complementary WiFi and electrical outlets allow you to continue to work while traveling.
Take Advantage of Flexible Scheduling
Mix and match coach and Acela schedules while traveling within the Northeast Corridor.
Ride Comfortably
Enjoy more seat and leg room, the ability to move around, access to Lounge Cars.
New to Rail Travel? Check the FAQs
What's different in the new program?
Amtrak is providing a discount to federal government business travelers for the Northeast Corridor Regional train service. Amtrak will offer this while continuing to provide federal government fares on select Acela routes in the Northeast Corridor. This expansion now includes more than 70 stations on Acela, Northeast Regional and Keystone Services. We have also added discounts for federal government business travel on most national service and state trains.
How do I book travel to get this discount?
Your agency's authorized Travel Management Company (TMC) are provided a corporate account number that is used to activate the discounted federal government travel fare. The corporate account number can only be applied by TMCs, or via your agencies booking tool provided through CWTSato or Concur. Contact your travel office for details. Discounted federal government fares are not available through the 1-800-USA-RAIL, Amtrak.com, the Amtrak app, Quik-Trak ticketing kiosks or staffed ticket offices.
How do Amtrak fares work?
GSA does not set Amtrak fares. Using the approved government booking channels (CWTSato, Concur, or your TMC) the corporate ID number will be applied to your reservation inquiry. This guarantees that the federal government rate or better will be returned to you. Amtrak may offer special fares from time to time that are lower than federal government fare plans. If that is the case our system will always return to you the lowest available fare based on the rules your agency has set for refunds and other conditions.
What if I have to make a change while traveling?
Changes to travel within an existing reservation created via an approved channel are available via 1-800-USA-RAIL and staffed ticket offices. New reservations must be made via the approved booking channels. Changes that result in additional charges must be approved per your agency policy.
What if my trip gets canceled? Can I get a refund?
Tickets sold as a federal government travel fare are fully refundable. If ticket is not canceled before the scheduled departure resulting in a "no show," the entire amount is forfeited and cannot be applied toward future travel.
Why should I choose Amtrak for my travel?
Electrical outlets at each seat allow you to work or relax.
Generous baggage policy.
Freedom of movement while traveling.
Lounge Cars offer food and beverages.
City center to city center service in most areas. Avoid the hassle, time and expense of parking and finding next step transportation to your destination.
Quiet cars on each Northeast Corridor train.
More seat and leg room.
No refund fees.
Nationwide service with Federal Government Discounts available.
For more information, email:
Will Samolis
Industry Alliances
Amtrak | 1 Massachusetts Ave., NW | Washington, DC 20001
Email: will.samolis@amtrak.com
SIGN IN OR CREATE AN ACCOUNT
Passwords are case sensitive, should be at least 10 characters long and should include 1 uppercase and 1 lowercase alpha character, 1 number and 1 special character. ! " # $ % & ' ( ) * + , - . / : ; < = > ? @ [ \ ] ^ _ ` < | > ~

Enter the email address or member number associated with your account. We will send password reset instructions.

An email with password reset instructions is on the way.

That answer wasn't correct either. We've sent you an email with instructions to reset your password instead.

Continue as Signed In Sign Out