For a truly unique experience when traveling in First Class, Amtrak offers private rooms on many routes across the country. A private room is the perfect option for customers seeking privacy and space on a short trip and added comfort and amenities when traveling overnight. Several room options are available to best fit your needs and budget — and all include a variety of amenities aimed to enhance your trip.
Roomette or Bedroom? Take a Tour of Both.
Perks of a Private Room
When you book travel in a sleeping car, you'll be entitled to a range of amenities and extras.
Complimentary Meals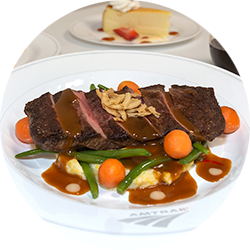 Meals are included when traveling in a private room. Our onboard dining services provide a menu with a wide variety of options for breakfast, lunch and dinner.
Lounge Access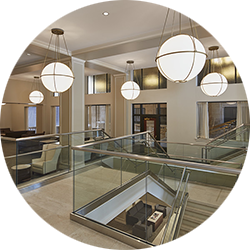 Available at major stations, lounges offer comfortable seating, refreshments and access to a dedicated agent before your trip, when making connections and upon arrival.
First Class Attendant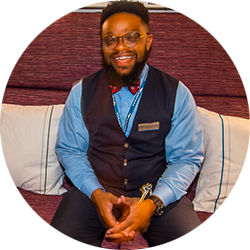 Your dedicated First Class attendant will greet you during boarding and provide turndown service, assist with meals, help with luggage and share great stories of life on the rails.
Frequently Asked Questions
Much like your ticket in Coach, the fare for a private room is based on when you're traveling, where you are traveling and how many people are traveling with you. It's often best to book early to secure the best price.

With the exception of Family Bedrooms and Bedroom Suites, all Sleeping Car rooms accommodate one or two travelers per room.

Yes. All rooms have access to restrooms and showers. Check out the room descriptions for more information about the room type you are considering.

Yes. Upgrades from Coach to Sleeping Car accommodations are available up until the moment of your departure by modifying your trip on Amtrak.com or the Amtrak app. While you will pay the difference in fare, no change fee applies when upgrading to a room.

The Amtrak Sleeping Car fleet consists of two types of cars: Superliner and Viewliner. The primary difference: a Superliner features two levels of private accommodations per car and Viewliner features a single level. For your trip, the type of car will depend on the route you select. Once you are onboard, your Sleeping Car attendant can provide more information about both your room and your car.

For all rail vacation packages on Amtrak Vacations, visit AmtrakVacations.com or call 1-800-AMTRAK-2 (1-800-268-7252).
Book a Trip Today
Private Rooms – A Unique Way to Travel Aboard Amtrak
SIGN IN OR CREATE AN ACCOUNT
Passwords are case sensitive, should be at least 10 characters long and should include 1 uppercase and 1 lowercase alpha character, 1 number and 1 special character. ! " # $ % & ' ( ) * + , - . / : ; < = > ? @ [ \ ] ^ _ ` < | > ~

Enter the email address or member number associated with your account. We will send password reset instructions.

An email with password reset instructions is on the way.

That answer wasn't correct either. We've sent you an email with instructions to reset your password instead.

Continue as Signed In Sign Out