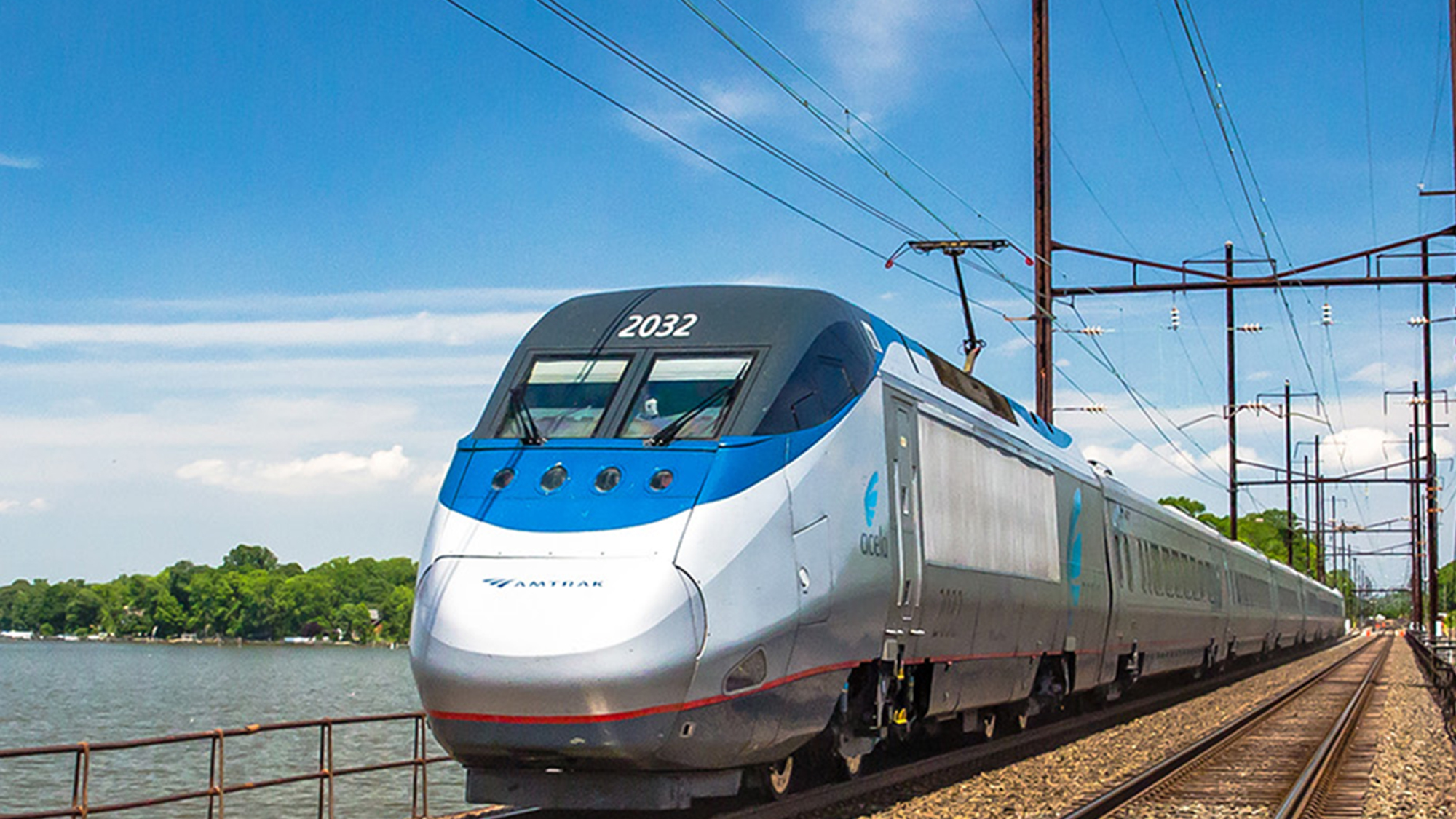 Book Early to Save up to 30% With Acela
Book Early to Save up to 30% With Acela
Business Class on a Leisure Budget
Plan a trip to the best cities in the Northeast onboard America's only high-speed train, Acela. Book 14-days in advance to save on Acela's premium amenities and service including:
Reserved seating allows you to select your seat and your car. Reserve a seat at a table, a window, or even in the Quiet Car.
Large, leather seats with lots of legroom.
Bring up to four bags for free, and with our oversized luggage storage you won't have to worry about where to store all your baggage.
Our free WiFi and power outlets at every seat keep you connected.
Easy downtown-to-downtown service, where you can arrive at the station minutes, not hours, before departure.
By traveling on all-electric trains like Acela you are reducing your greenhouse gas emissions by 72% compared to flying, and 83% compared to driving a personal vehicle..
Traveling as a family? Don't forget about our Child Discount.
With reduced pricing, reduced greenhouse gas emissions and reduced travel times, why not upgrade your next trip to Acela?
Offer applies to travel on Acela train service only. 
Advanced reservations are required a minimum of fourteen (14) days prior to travel for Acela.
Fares not available on Friday & Sunday.
Seating is limited; seats may not be available on all trains at all times. 
Fares are subject to availability. May not be available on all trains, dates, and times.
All children ages 2–12 may accompany each adult at half fare.
This offer is valid for Acela Business Class seats only; no upgrades permitted.
This offer is not combinable with any other discount offer.
In addition to the discount restrictions, this offer is subject to any restrictions, blackouts, refund rules and cancellation fees that apply to the type of fare purchased. 
Fares, routes and schedules are subject to change without notice.
Once travel has begun no changes to the itinerary are permitted.
Other restrictions may apply.
SIGN IN OR CREATE AN ACCOUNT
Passwords are case sensitive, should be at least 10 characters long and should include 1 uppercase and 1 lowercase alpha character, 1 number and 1 special character. ! " # $ % & ' ( ) * + , - . / : ; < = > ? @ [ \ ] ^ _ ` < | > ~

Enter the email address or member number associated with your account. We will send password reset instructions.

An email with password reset instructions is on the way.

That answer wasn't correct either. We've sent you an email with instructions to reset your password instead.

Continue as Signed In Sign Out