Discounts for Virginia Students
Students in Virginia now save 15% through the Amtrak Student Discount. Just book Value rail fares three days in advance. Students ages 13-25 with a valid student ID are eligible.
Take the train to and from campuses across Virginia, whether you're deciding where to get your education, heading back to school or road tripping with friends. Stops in Hampton Roads, Richmond, D.C., Baltimore, Philadelphia, New York and Boston make it easy to get home to see Mom, too (or do laundry).
To make the most of your time on campus, follow these quick tips: Your Campus Connection.
Book today and enjoy comfortable, spacious seating, power outlets at every seat, free Wi-Fi, no baggage fees — across Virginia and the Northeast. Ride for less with the Amtrak Student Discount.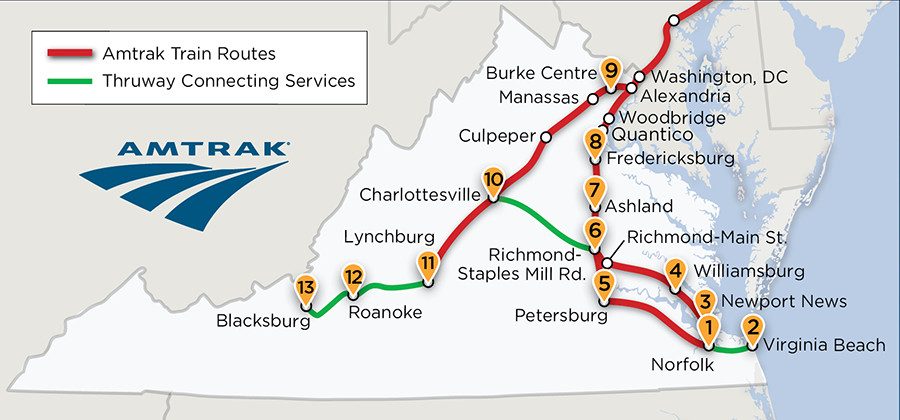 Norfolk State, Old Dominion, Virginia Wesleyan
Regent
Christopher Newport, Hampton
William and Mary
Virginia State
University of Richmond, Virginia Commonwealth, Virginia Union
Randolph-Macon
University of Mary Washington
George Mason
University of Virginia
Liberty University, Lynchburg College, Randolph College, Sweet Briar
Hollins, Roanoke
Radford, Virginia Tech
The Amtrak Student Discount is one of many discounted travel offers available:
SIGN IN OR CREATE AN ACCOUNT
Hint: Check your caps lock as passwords are case sensitive. Passwords should be at least 10 characters long and include 1 uppercase and 1 lowercase alpha character, 1 number and 1 special character. ! " # $ % & ' ( ) * + , - . / : ; < = > ? @ [ \ ] ^ _ ` < | > ~

Enter your account email address to receive password reset instructions.

Thank you. An email with password reset instructions is on its way.

That answer wasn't correct either. We've sent you an email with instructions to reset your password instead.

Continue as Signed In Sign Out