Save 40% on a Companion Rail Fare with a PA Trips by Train Excursion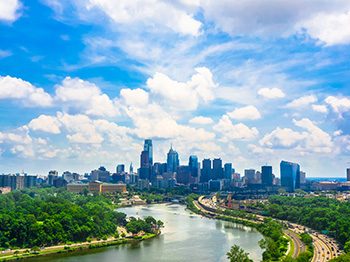 Share your next Pennsylvania adventure with someone special and save on your Amtrak travel experience. Book your travel now through June 27, 2018, to save 40% on a companion fare. Travel January 1, 2017 - June 30, 2018, to enjoy savings with the purchase of one full-priced adult rail fare.
Whether you're exploring historic Philadelphia, or heading to Hershey or Harrisburg —  your PA Trips By Train Excursion will provide memorable experiences for all ages. With big savings on a companion fare, you can share your adventure with the perfect travel partner.
Valid for Sale Through June 27, 2018
Valid for Travel Through June 30, 2018
Exclusively available at Amtrak.com via PA Rail Excursions. Valid for one (1) 40% off companion rail fare with the purchase of one regular (full) adult rail fare. Valid for sale December 18, 2016 - June 27, 2018. Valid for travel January 1, 2017 - June 30, 2018. Blackout dates: February 17 and 20, 2017, April 13 - 14, 2017, May 26 - 29, 2017, September 1 and 4, 2017, October 9, 2017, November 21 - 22 and 25 - 27, 2017, December 22 - 24 and 29 - 31, 2017, January 2, 2018, February 16 and 19, 2018, March 30, 2018, April 2, 2018, May 25, 2018. Advance reservations are required a minimum of three (3) days prior to travel. Valid for travel on the Keystone Service and Pennsylvanian in conjunction with PA Trips by Train Excursion packages only. The companion and full fare paying passenger must travel together at all times. The companion is subject to the same restrictions and conditions as the full fare paying passenger. Up to two (2) children (ages 2 - 12) may accompany each adult at half the regular (full) adult rail fare. Children and infants must travel with an adult who is at least 18 years or older. Valid for Coach seats. Seating is limited; seats may not be available on all trains at all times. Fares are subject to availability. In addition to the discount restrictions, this offer is also subject to any restrictions, blackouts, and refund rules that apply to the type of fare purchased. Fares, routes and schedules are subject to change without notice. Once travel has begun, no changes to the itinerary are permitted. Not combinable with any other discount offer. Other restrictions may apply.
SIGN IN OR CREATE AN ACCOUNT
Hint: Check your caps lock as passwords are case sensitive. Passwords should be at least 10 characters long and include 1 uppercase and 1 lowercase alpha character, 1 number and 1 special character. ! " # $ % & ' ( ) * + , - . / : ; < = > ? @ [ \ ] ^ _ ` < | > ~

Enter your account email address to receive password reset instructions.

Thank you. An email with password reset instructions is on its way.

That answer wasn't correct either. We've sent you an email with instructions to reset your password instead.

Continue as Signed In Sign Out