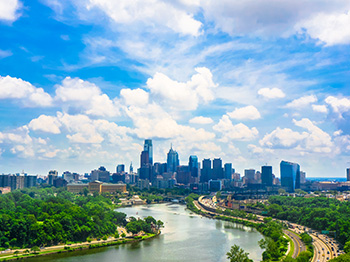 Save 30% on a Companion Fare to Philadelphia
Save 30% on a Companion Fare to Philadelphia
Save 30% on a Companion Fare to Philadelphia
Save 30% on a Companion Fare to Philadelphia
Visit "The City of Brotherly Love" with a friend on the Northeast Regional or Keystone Service and save 30% on a companion fare when you book now through December 17, 2017, for travel January 4 - December 20, 2017.
With 51 stations offering multiple departures daily, it's easy to find one close to you. You'll be glad you left the car at home, as you chat, work or relax in comfort. Your visit begins when you arrive at Philadelphia's bustling 30th Street Station where you can take in the rich history, fine dining, exciting sports and vibrant nightlife that have made this city a must-visit destination
Take advantage of this offer and save 30% on a companion fare when you purchase by December 17.
Valid for Sale Through December 17, 2017
Valid for Travel Through December 20, 2017
Exclusively available at Amtrak.com via VisitPhilly.com/Amtrak.Valid for one (1) 30% off companion rail fare with the purchase of one regular (full) adult rail fare.Valid for sale December 18, 2016 - December 17, 2017.Valid for travel January 4 - December 20, 2017.Blackout dates: February 17 and 20, 2017, April 13 - 14 and 17, 2017, May 26 and 29, 2017, September 1 and 4, 2017, October 9, 2017, November 21 - 22 and 25 - 27, 2017. Advance reservations are required a minimum of three (3) days prior to travel for all trains (including Keystone Service). Valid for travel within the Northeast Corridor on the Northeast Regional and Keystone Service to Philadelphia, PA and return only. Valid for Coach seats only; no upgrades permitted. Seating is limited; seats may not be available on all trains at all times. Companion and full fare paying passengers must travel together at all times. Companion is subject to the same restrictions and conditions as the full fare paying passenger. Up to two (2) children ages 2 - 12 may accompany each adult at half the regular (full) adult rail fare.Children and infants must travel with an adult who is at least 18 years or older. Fares subject to availability.In addition to the discount restrictions, this offer is also subject to any restrictions, blackouts and refund rules that apply to the type of fare purchased. Fares, routes and schedules are subject to change without notice. Once travel has begun, no changes to the itinerary are permitted. Not combinable with any other discount offer. Other restrictions may apply.