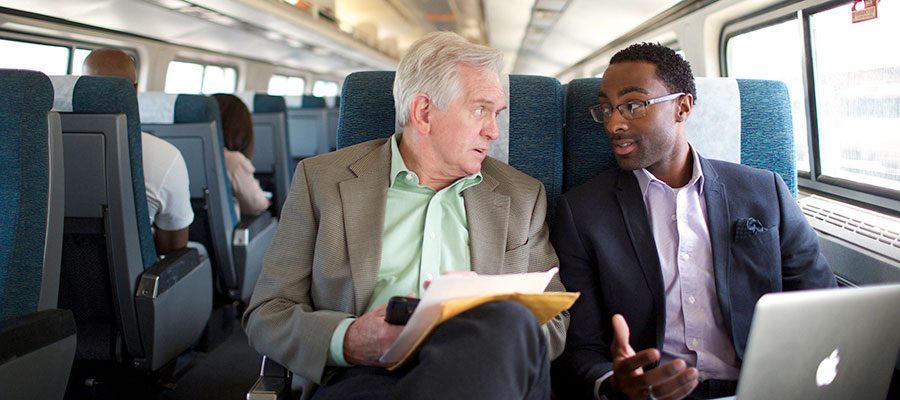 Enjoy the exclusive amenities that come with traveling in Business Class — an affordable, enhanced experience offered on many of our trains across the country. While the specific features vary by train, many include extra legroom and complimentary non-alcoholic drinks. Additionally, all Business Class seats are located in a dedicated car or section of the train. And to make it even more rewarding, Amtrak Guest Rewards members earn a 25% qualifying point bonus for Business Class travel.
Booking Business Class for Your Next Trip
While booking Business Class on Acela Express, once you begin your reservation, seats can be found in the Saver, Value and Flexible Fare columns on the Fare results page(s).
For all other trains, available Business Class seats will be listed under the Premium fare column on the fare results page(s). If there are multiple Premium fare options offered, simply scroll through to find and select your Business Class seat. Premium seats are fully refundable without a fee if canceled before the scheduled departure.
SIGN IN OR CREATE AN ACCOUNT
Hint: Check your caps lock as passwords are case sensitive. Passwords should be at least 10 characters long and include 1 uppercase and 1 lowercase alpha character, 1 number and 1 special character. ! " # $ % & ' ( ) * + , - . / : ; < = > ? @ [ \ ] ^ _ ` < | > ~

Enter your account email address to receive password reset instructions.

Thank you. An email with password reset instructions is on its way.

That answer wasn't correct either. We've sent you an email with instructions to reset your password instead.

Continue as Signed In Sign Out