Low Saver Fares On-Board Acela
No Middle Seats and No Airplane Mode
Leave behind the inconvenience of airline travel. You don't have to settle for cramped seats, paying for WiFi and baggage fees when you choose Acela. When you book 14 days in advance, Northeast Corridor fares between Boston and New York/Newark are as low as $89.
There are so many differences between flying to your destination and getting there aboard Acela. Besides the relaxing atmosphere, you have the advantages of:
Roomy seats
More legroom
Fully stocked Café Car
Conference tables
At seat power outlets
Quiet Car, in case you need some peace and calm.
First Class tickets now start as low as $181. In First Class you have all of the good of Acela Business class, but there is no need to get up, unless you want to. At-seat meal and beverage service is included with your ticket. Before you board, you may also enjoy access to our ClubAcela Lounges.
Offer features our premium Acela Express service and great Saver Fares.
Blackout dates: November 20-21 and 24-25, 2018.
Advance reservations are required a minimum of fourteen (14) days prior to travel.
Valid for travel on Acela Express only. 
Acela Express offers a child discount on weekends and holidays only.
One (1) child (ages 2 - 12) may accompany each adult at half fare. 
Valid for Business class seats; upgrades permitted upon full payment of accommodation charges.
Seating is limited; seats may not be available on all days. 
Fares are subject to availability.Not combinable with any other discount offer. 
In addition to the discount restrictions; this offer is subject to any restrictions, blackouts and refund rules and cancellation fees.
Once travel has begun, no changes to the itinerary are permitted. 
Fares, routes and schedules are subject to change without notice. 
Other restrictions may apply.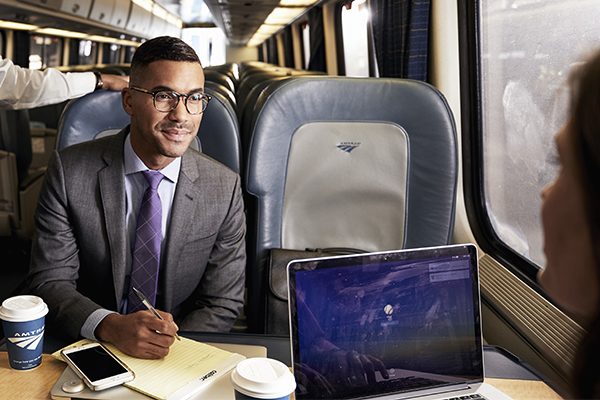 SIGN IN OR CREATE AN ACCOUNT
Hint: Check your caps lock as passwords are case sensitive. Passwords should be at least 10 characters long and include 1 uppercase and 1 lowercase alpha character, 1 number and 1 special character. ! " # $ % & ' ( ) * + , - . / : ; < = > ? @ [ \ ] ^ _ ` < | > ~

Enter your account email address to receive password reset instructions.

Thank you. An email with password reset instructions is on its way.

That answer wasn't correct either. We've sent you an email with instructions to reset your password instead.

Continue as Signed In Sign Out