The Amtrak Police Department (APD) is a national police force committed to protecting the customers, employees, and stakeholders of Amtrak. Our more than 500 sworn and civilian personnel located at more than 30 locations in 46 states conduct a range of behind-the-scenes and front line security measures to ensure Amtrak employee, customer, and infrastructure safety and security.
APD is responsible for ensuring the safety and security of over 30 million customers traveling to more than 500 destinations in 46 states, the District of Columbia and three Canadian provinces, on more than 21,400 miles of routes. APD partners with federal, state, local, rail and transit law enforcement agencies to provide a police presence at a majority of Amtrak stations and along the rights-of-way.


Quick Links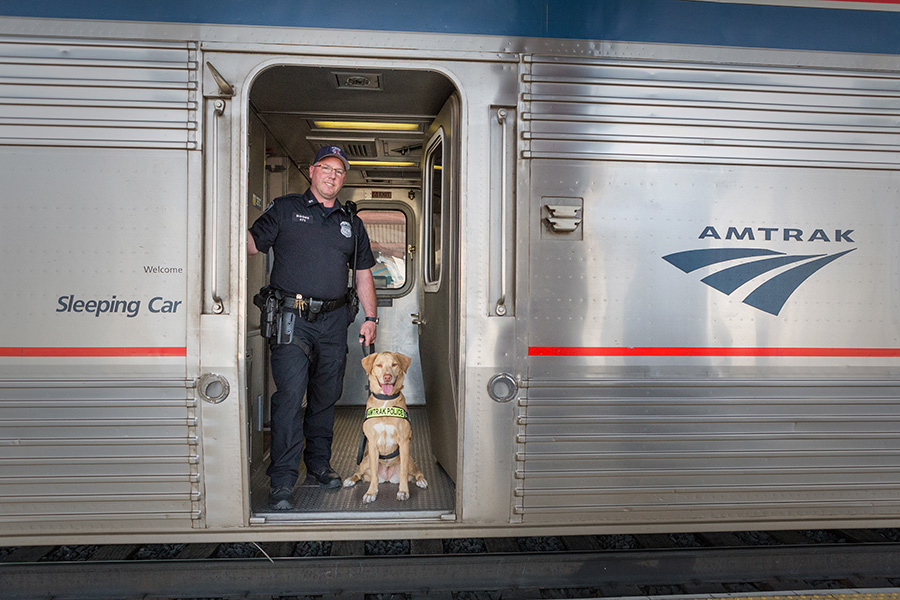 Contact the Amtrak Police Department
Report crime, emergencies, suspicious items, persons, or activity immediately to the Amtrak Police Department by:
Contacting a uniformed officer
Calling 800-331-0008
Texting to APD11 (27311) Messaging and Data rates may apply. Txt HELP for help, txt STOP to cancel.
Calling 911
CALEA Certification
The Commission on Accreditation for Law Enforcement Agencies (CALEA) was formed in 1979. CALEA established a body of standards designed to increase a law enforcement agency's capabilities to prevent and control crime, increase effectiveness and efficiency in its services, enhance cooperation and coordination with other law enforcement and criminal justice agencies, and increase citizen and employee confidence in the goals, objectives, policies, and practices of the agency. CALEA has developed an accreditation process that provides law enforcement agencies an opportunity to voluntarily demonstrate that they meet a set of professional standards and best police practices.
Read More

Anyone wishing to provide comments regarding Amtrak Police Department compliance with CALEA standards, engagement in the service community, delivery of public safety services, and overall candidacy for accredited status, may provide comments through CALEA's public comment portal.
These comments can be in the form of commendations or concerns. The overall intent of the accreditation process is to provide our agency with information to support continuous improvement, as well as foster the pursuit of professional excellence.
Note: CALEA is not an investigatory body and subsequently the public portal should not be used to submit information for such purposes. Additionally, there will be no response other than acknowledgment of submissions; however, the information will be considered in context to its relevancy to compliance with standards and the tenets of CALEA Accreditation.