Superliner Bedroom Suite
The Superliner Bedroom Suite, made by combining two adjoining Bedrooms, is ideal for four passengers but can fit six. It's furnished with two large sofas and two easy chairs next to large windows. At night, the sofas convert to lower beds, and the upper beds fold down from above. Suites feature two sinks and two private, enclosed restrooms with toilets and showers.

Specifications
Two Rooms Combined
2 Adult Berths with Ladder
Lower Berth 3'4"x 6'3"
Upper Berth with Ladder 2'4" x 6'2"

Specific rooms may not be reserved online, so rooms are automatically assigned when your reservation is completed. Your ticket will show your exact car and room number.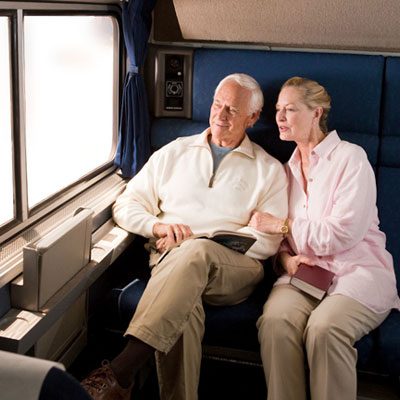 Features & Amenities
Meals included
Space for four passengers (maximum of six, two travelers share each of the lower beds)
Private sink, vanity, toilet and shower
Two armchairs

Two sofas convert to lower beds
Upper beds fold down from above
Two large windows
Available on upper level
Electrical outlet
Climate control
Individual reading lights
Garment rack
Fold-down table
Fresh towels and bed linens
Soap and shower amenities
Personal service (bed turn-down, coffee)
Bottled water