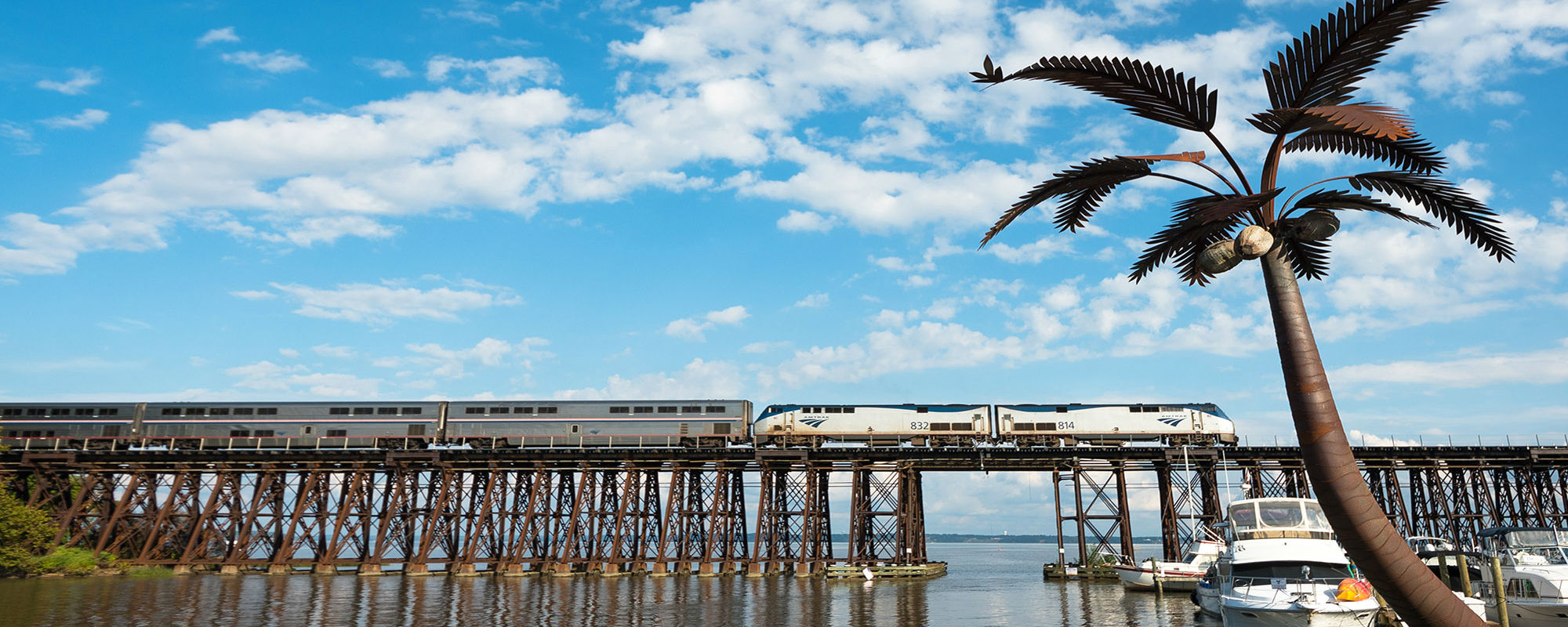 Auto Train Fares Starting at $89 for a Limited Time
Auto Train Fares Starting at $89 for a Limited Time
Take Your Car on a Road Trip. Leave the Driving Behind.
Bumper to bumper traffic. Endless road. Wear and tear on your engine. Your next vacation shouldn't come with the baggage of a road trip. The Auto Train will take you and your car nonstop between Lorton, VA near Washington, DC and Sanford, Florida near Orlando for as low as $89 (plus the cost of your vehicle) with Saver Fares.
Learn more about the Auto Train experience.
Leave the driving to us while you settle in with a good book, stream a movie on your tablet or grab a bite to eat in the Café Car. You can pack your car with all the essentials for your trip and drive it out of the station when you arrive.

Whether you're heading down south for the theme parks, or taking a trip to our nation's capital for a taste of American history, the Auto Train is the perfect way to Get Carried Away.
And rest assured, we are limiting bookings on most trains to allow for more physical distancing in seating areas. Individuals traveling alone may use the seat next to them for personal belongings, while friends and family members will easily find seats together.

This offer features our best Saver Fares valid on the Auto Train only.
Advance reservations are required a minimum of three (3) days prior to travel.
Once purchased, all sales are final with no exchange or refund value.
Valid for travel on the Auto Train only.
Valid on Coach seats only; no upgrades permitted.
Seating is limited, seats may not be available on all days.
One child (ages 2 - 12) may accompany each adult at half fare.
Children and infants must travel with an adult who is at least 18 years or older.
Fares are subject to availability.
Once travel has begun, no changes to the itinerary are permitted.
Not combinable with any other discount offer.
In addition to the discount restrictions; this offer is subject to any restrictions, blackouts, refund rules and cancellation fees that apply to the type of fare purchased.
Fares, routes and schedules are subject to change without notice.
Other restrictions may apply.
SIGN IN OR CREATE AN ACCOUNT
Passwords are case sensitive, should be at least 10 characters long and should include 1 uppercase and 1 lowercase alpha character, 1 number and 1 special character. ! " # $ % & ' ( ) * + , - . / : ; < = > ? @ [ \ ] ^ _ ` < | > ~

Enter the email address or member number associated with your account. We will send password reset instructions.

An email with password reset instructions is on the way.

That answer wasn't correct either. We've sent you an email with instructions to reset your password instead.

Continue as Signed In Sign Out